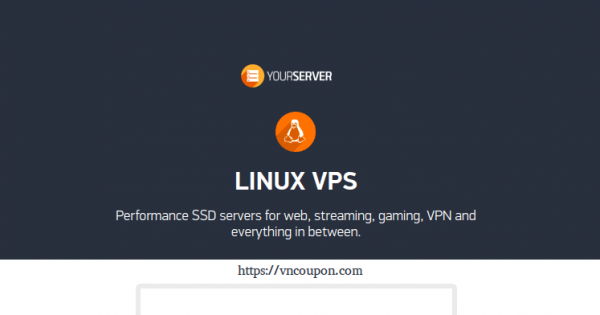 Today, yourserver.se tweeted a new message: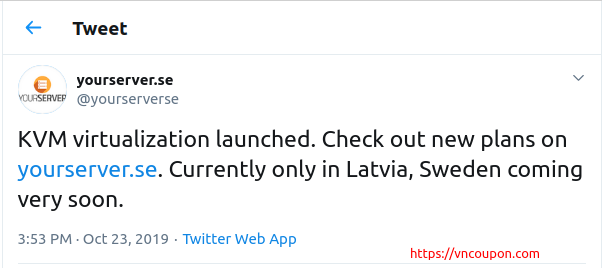 Their KVM VPS launched in Latvia, Sweden coming soon. You can checkout KVM Plans with unmetered bandwidth from $5/month.
Black Friday 2019 Promotions
30% discount on any annual plan using coupon code: BLACKFRIDAY2019
KVM VPS Plans
Performance SSD servers for web, streaming, gaming, VPN and everything in between.
KVM – 1GB
1GB RAM
1 vCPU
10GB SSD Disk
Unlimited Transfer
5.00€ Monthly
KVM – 4GB
4GB RAM
2 vCPU
40GB SSD Disk
Unlimited Transfer
20.00€ Monthly
KVM – 8GB
8GB RAM
2 vCPU
80GB SSD Disk
Unlimited Transfer
40.00€ Monthly
KVM – 16GB
16GB RAM
4 vCPU
160GB SSD Disk
Unlimited Transfer
80.00€ Monthly
About yourserver.se & OpenVZ VPS Plans (From $4/month) => Click here
KVM VPS Features
With VPS control panel, you can install new servers, reset passwords, recover and view statistics via browser and mobile devices.
The amount of the network transfer is UNLIMITED in all of our plans. You can use 100% of available bandwidth all of the time with no surprises at the end of the month.
Hardware you trust: your VPS servers will be located on trusted Supermicro servers with Intel Xeon CPUs, ECC RAM and Intel SSD drive arrays. Servers are never overprovisioned
With KVM virtualization, you get a full-features machine with ability to install custom kernel and run any software.
99.9% SLA and support
Network Information
GOTHENBURG, SWEDEN
+ Looking glass: http://se.lg.yourserver.se/
+ Test IPv4 address: 95.215.45.2
+ Test IPv6 address: 2a02:7aa0:1619::53
RIGA, LATVIA
+ Carriers: TeliaSonera, RETN, SMILE-IX and MSK-IX
+ Looking glass: http://lv.lg.yourserver.se/
+ Test IPv4 address: 185.61.148.2
+ Test IPv6 address: 2a02:7aa0:1201::2