SupremeVPS – Cloud SSD VPS Resource Pools from $19/year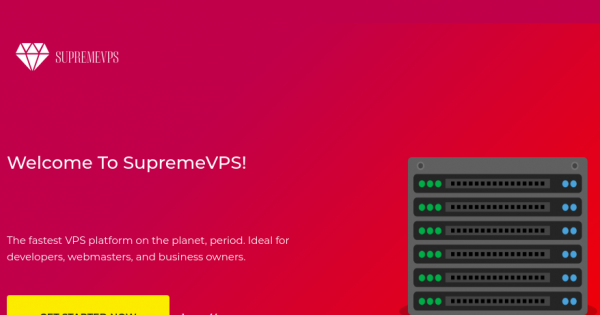 SupremeVPS offers some exclusive deals on SSD VPS resource pools. The resource pools allow you to deploy in Los Angeles, Chicago and NY!
About SupremeVPS
SupremeVPS was founded out of necessity. As developers and entrepreneurs ourselves, we saw a real need for a high performance VPS hosting provider without the fuss. Our pricing is simple, flat-rate, and easy to understand. No calculator needed, and there are absolutely zero hidden fees. SupremeVPS was born to be simple & easy to use – our intuitive platform allows you to deploy in under 60 seconds.
Cloud VPS Pool Plans
2x SSD Cloud VPS Pool
Create Up To 2 VPS's
2 vCPU Cores
2GB RAM
30GB SSD Storage
2TB Monthly Transfer
1Gbps Port
2x IPv4 Addresses
Linux OS Options
Resource Manager Panel
OpenVZ
Deploy in 3 Locations
$19/yr
Order Link
4x SSD Cloud VPS Pool
Create Up To 4 VPS's
4 vCPU Cores
4GB RAM
50GB SSD Storage
5TB Monthly Transfer
1Gbps Port
4x IPv4 Addresses
Linux OS Options
Resource Manager Panel
OpenVZ
Deploy in 3 Locations
$35/yr
Order Link
8x SSD Cloud VPS Pool
Create Up To 8 VPS's
8 vCPU Cores
8GB RAM
100GB SSD Storage
10TB Monthly Transfer
1Gbps Port
8x IPv4 Addresses
Linux OS Options
Resource Manager Panel
OpenVZ
Deploy in 3 Locations
$69/yr
Order Link
16x SSD Cloud VPS Pool
Create Up To 16 VPS's
16 vCPU Cores
16GB RAM
300GB SSD Storage
30TB Monthly Transfer
1Gbps Port
16x IPv4 Addresses
Linux OS Options
Resource Manager Panel
OpenVZ
Deploy in 3 Locations
$120/yr
Order Link
They accept PayPal, Credit Cards, Bitcoin, Litecoin and Ethereum
Network Information
Los Angeles, California (530 W. 6th St. Datacenter Facility)
Test IPv4: 107.175.180.6
Test file: http://107.175.180.6/1000MB.test
Chicago, Illinois (2200 Busse Rd., Elk Grove Village Facility)
Test IPv4: 172.245.240.34
Test file: http://172.245.240.34/1000MB.test
Buffalo, New York (325 Delaware Ave. Buffalo, NY Facility)
Test IPv4: 192.3.180.103
Test file: http://192.3.180.103/1000MB.test