BigFootServers – Pooled Resource VPS from $90/year in Los Angeles & Dallas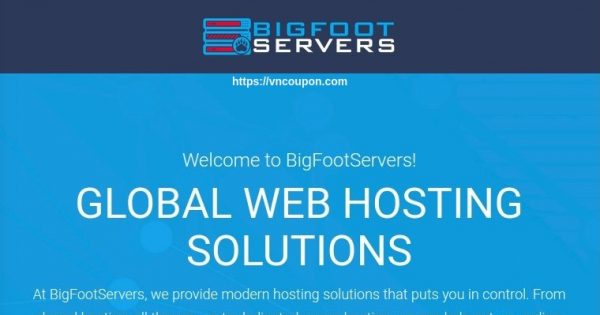 BigFootServers are offering discounted packages on VPS resource pools, 3GB and 5GB pools. With these VPS pools, they're giving customers the ability to create VPS's on-demand, in Los Angeles or Dallas.
About BigFootServers
BigFootServers was founded when we saw a need for a simpler solution for small businesses to get started online. Our service-first business model sets us apart from the rest. At BigFootServers, we treat you with the utmost respect that you deserve, as our valued customer.

We provide a wide variety of different web hosting services to fit everyone's budget. Whether you're a home user, professional, or a business owner, we have the perfect plan for you. And best of all, all of our services feature a 99.9% uptime guarantee, in addition with 24×7 customer support.
VPS Pools Features
Create, manage, resize or delete servers within a few clicks! BigFootServers provide you with a resource pool, and you determine how they are used!
Hardware spec: 
– Intel Xeon E3 Processors
– 32GB to 64GB RAM
– 4x 2TB HDDs
– Hardware RAID10 with Caching
– 1Gbps uplink
VPS Pools Offers
3 VPS Instance Pool
3 CPU Cores
60GB RAID-10 Storage
3GB RAM
3TB Monthly Bandwidth
3 IPv4 Addresses
Create Up To 3 VPS's
Los Angeles + Dallas Datacenter
OpenVZ Virtualization
$90/yr
5 VPS Instance Pool
5 CPU Cores
100GB RAID-10 Storage
6GB RAM
5TB Monthly Bandwidth
5 IPv4 Addresses
Create Up To 5 VPS's
Los Angeles + Dallas Datacenter
OpenVZ Virtualization
$120/yr
Network Information
ColoCrossing – Los Angeles, CA, USA
+ Test IPv4: 107.175.180.6
+ Test file: http://107.175.180.6/100MB.test
ColoCrossing – Dallas, TX, USA
+ Test IPv4: 192.3.237.150
+ Test file: http://192.3.237.150/100MB.test
ColoCrossing – Chicago, IL, USA
+ Test IPv4: 66.225.198.198
+ Test file: http://66.225.198.198/100MB.test