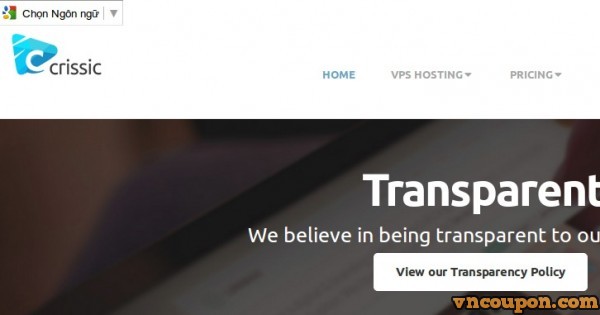 This is their email:
As a valued Crissic Solutions customer we are giving you an early opportunity to purchase from our new VPS line just launched in Los Angeles, California.
We have just finished setting up new server nodes featuring KVM virtualization.  The new servers are the same quality Crissic server builds featuring Dell servers with dual six core Intel processors, 48GB of RAM, RAID-10 disk array, gigabit uplink connected to a 10Gbps owned router.
KVM is more suitable for those concerned with privacy, those who want more predictable performance of a dedicated resource virtualization, and those who have specific needs that necessitate true virtualization.  Every plan includes RAM, and disk space that is reserved only for you with no oversell. KVM is a very good choice for businesses.
We are offering you a selection of three new packages in Los Angeles that are large on resources while still being friendly on price. Inventory for this launch is limited.  All orders from this promotion are backed by our 10 day Money Back Guarantee.
Tiny
RAM – 640MB Free Upgrade to 750MB
CPU Cores – 2
Hard Disk – 45GB (HDD Raid 10)
Bandwidth – 2TB / Month
1 Gbps
1 IPv4 | /64 Subnet IPv6
$6.99 / Month
Small VPS
KVM1280LAX
1280MB upgraded to 1500MB Dedicated RAM
3 CPU Cores
75GB disk
3.5TB BW (unmetered inbound)
1 IPv4
64 IPv6 Subnet
$11.99 month
Medium KVM VPS
KVM2560LAX
2560MB upgraded to 3000MB Dedicated RAM
4 CPU Cores
150GB disk
4TB BW (unmetered inbound)
1 IPv4
64 IPv6 Subnet
$22.99 month
Large KVM VPS
KVM5120LAX
5120MB upgraded to 6400MB Dedicated RAM
4 CPU Cores
320GB disk
6TB BW (unmetered inbound)
1 IPv4
64 IPv6 Subnet
$46.99 month
Network Infomation:
IPv4 Test IP: 167.160.160.160
Speedtest File: http://la-lg.as62639.com /100MB.test