SerNet Hosting – Special KVM VPS from $4/month – 2GB RAM / 100GB HDD / Unlimited bandwidth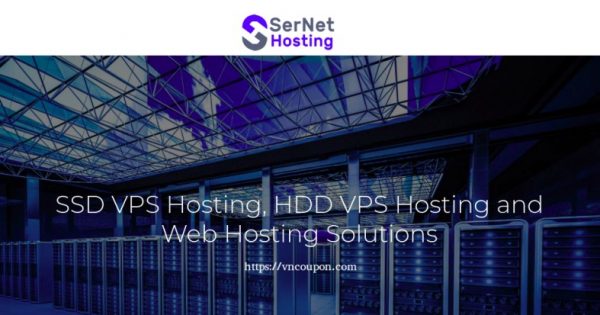 SerNet Hosting, a hosting company that has been operating for over 1 year. They offer special vps on vncoupon.com
About SerNet Hosting
SerNet Hosting started in late 2018 with the aim of bringing a new improved vision to the hosting industry.

The main goal we set off with when we launched is to provide affordable, high quality, reasonably priced, flexible hosting services and to change the hosting experience for customers. We plan to continue to strive and continue to meet this goal in the future as we expand our services and locations.

We understand starting your project or business can be overwhelming to start with, for this reason, we make our services as simple to use as possible whilst jampacking our plans full of features to help your business or project grow.

Every SerNet Hosting team member has a passion for what they do, we believe our staff members need to enjoy their job and have a passion for it in order to be able to provide the best experience for our customers, our support team isn't just a team it's a family.
VPS Plans
+ Unlimited Bandwidth
+ DDoS Protection
+ Free Weekly Backups
+ One Click Restores
+ 200 Mbps port speed
+ KVM
+ France. Roubaix
+ Virtualizor Control Panel
2GB Plan (HDD)
2GB DDR3 RAM
1GB SWAP RAM
100GB HDD Storage
1x CPU Core
Intel Xeon E3-1245v2 @ 3.40 GHz
$6/month -> Sale Price: $4/month
4GB Plan (HDD)
4GB DDR3 RAM
2GB SWAP RAM
200GB HDD Storage
2x CPU Core
Intel Xeon E3-1245v2 @ 3.40 GHz
11.75/ month -> Sale Price: $8.00/ month
8GB Plan (HDD)
8GB DDR3 RAM
4GB SWAP RAM
250GB HDD Storage
2x CPU Cores
Intel Xeon E3-1245v2 @ 3.40 GHz
$23.25/month -> Sale Price: $16.00/ month