MadGenius – 50% Off KVM VPS Offers from $59.40/year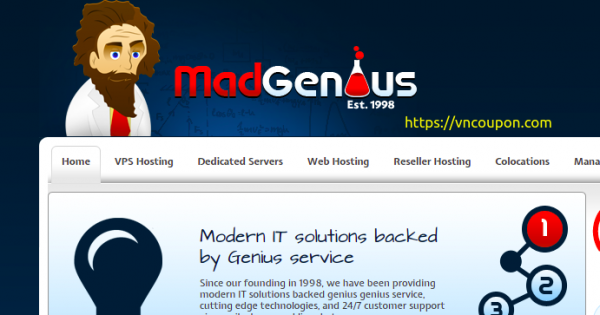 MadGenius – They've recently opened up service in Minneapolis and are offering a lifetime 50% discount off their list prices. KVM VPS Offers from $59.40/year
About MedGenius
Madgenius.com, is a locally owned and operated full service hosting provider in the Minneapolis area that has been in business since 1998. We are dedicated to providing web hosting, VPS, dedicated servers, networking and managed Internet services at the right price to residents and businesses.

Madgenius.com initial primary focus was webhosting, design, and Personal v.90 dial-up access but with cheap high speed access we moved away from dial-up access. We now offer VPS, co-lo, and dedicated servers. We also offer on-site and remote networking service and support, along with development in PHP, Java, and MySQL. By establishing strategic partnerships with essential industry players, and leveraging technologies like Linux and open source software Madgenius.com can offer decades of computer-based marketing and communications experience to provide state-of-the-art Internet marketing services.
Special KVM VPS Offers
Atom 1
20 GB SSD Disk Space
3 TB Bandwidth
512 MB RAM
1 vCPU Core
1 IPV4
coupon code: LEB50
KVM/SolusVM
$4.95/month
$59.40/year
Atom 2
25 GB SSD Disk Space
3 TB Bandwidth
1 GB RAM
1 vCPU Core
1 IPV4
coupon code LEB50
KVM/SolusVM
$7.49 per month
$89.88 per year
They accept Credit Card, paypal, Cryptocurrency, and ACH.

Network Information
Chicago, Ill USA – Continuum Data Center
Test IPv4: 74.119.217.9
Test file: https://madgenius.com/downloads/1000MB.test
Ashburn, VA USA – Atlantic Metro Data Center
Minneapolis, MN USA – Cogentco Data Center
Test IPv4: 38.142.174.233