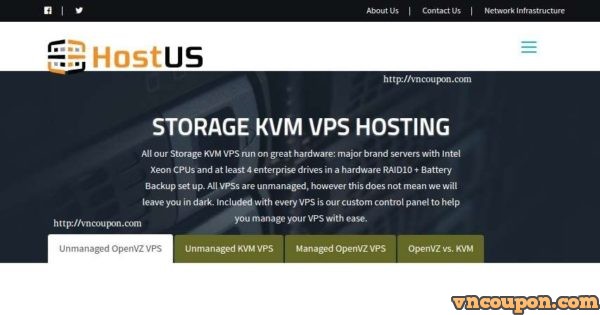 HostUS is owned and operated by HostUS Solutions LTD, registered in Scotland, United Kingdom. The hostnodes feature Intel Xeon CPUs, with 64GB of DDR3/4 RAM, along with RAID10 SSD, SSD Cached or HDD dependant on location. They are connected to a 1Gbps port.
They offer new storage KVM product line starting at $10/quarter or $33/year, All storage plans available in Atlanta.
KVM STORAGE OFFERS 
STORAGE 200G
STORAGE 400G
STORAGE 600G
STORAGE 800G
They offer PayPal, Bitcoin, Credit Card, AliPay and Skrill as payment methods. A 3 day money back guarantee is offered.
Other Promotions
+ OpenVZ VPS in 8 locations (from $16/Year): Order Here
+ Hong Kong, Singapore VPS (from $25/Year): Order Here
Network Information
+ Looking Glass: http://atl-lg.hostus.us/
+ Test IPv4: 162.245.216.243
+ Test IPv6: 2602:ffc5::a4fe:d5f9