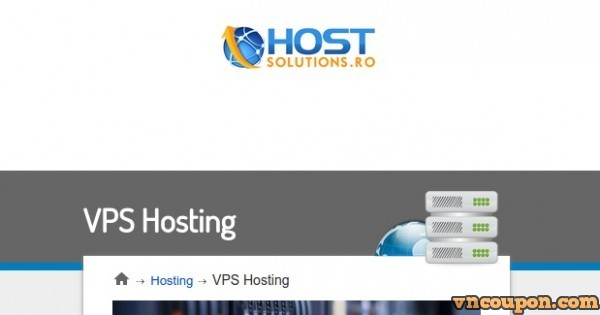 HostSolutions.ro started new promotion. 50% OFF promo code for All VPS Hosting & Shared Hosting.
Note: Host Solution.or is deadpool. If you want an Offshore VPS, get offer from Veesp.
VPS Hosting Promo Code
70OFFSSD
is valid only for 6 month and 1 year payment in all this packages: SSD vps located in ROMANIA
This offer is limited to the first 100 customers or until 30.07.2017 . (one time discount)
SSDPLAN550OFF
50% Recurring Discount. valid until 30.06.2017 or for the first 100 customers (what first occurred) and is apply 50% reduction from the normal price
If you are interested please click here
Special VPS (No coupon required): 
+ 1.99 EUR per month/ 2 cores/ 2 GB RAM/ 350GB HDD: Click here
+ $6.99 USD per month/ 4 cores/ 6GB RAM/ 50GB HDD: Click here
Shared Hosting Promo Code
LET50HOST
To reduce 50% of for life time, only one cupon/new client . Order Here
+ Personal cPanel Hosting (From €0.29/month): Click Here
+ Starter cPanel Hosting (From €1.59/month): Click Here
+ Pro cPanel Hosting (From €3.19/month ): Click Here
Webservers Spec for Web Hosting:
Intel Xeon CPU 2×6 core 2.67 (24 threads)
SSD (12gbps interface)
240 gb ram
2x1gbps port speed (1 dedicated , 1 shared)
cpanel+cloudlinux+litespeed+Softaculos
Located in Romania.
ALL RESOURCES IS DEDICATED ! THE MINIMAL RAM ALOCATED IS 1GB/ACCOUNT BY DEFAULT.
Dedicated Servers Promo Code
ThanksLETpeople
30% off the price from our normal prices , you can use this coupon code for any of this plans if you pay Quarterly
If you are interested please click here