FTPiT – SSD VPS Offers starting at $1.99/month in 3 US Locations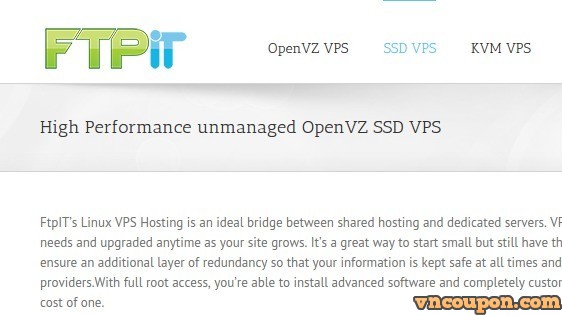 FtpIt is a privately-held professional hosting company founded in Ohio, USA. They are a leading provider of un-managed VPS hosting.
Today, they has sent some offers in 3 locations: Los Angeles, Tampa and Atlanta. Their hardware SSD RAID 10 configurations ensure an additional layer of redundancy so that your information is kept safe at all times and and our blazing fast network speeds powered by multiple 10 Gb upstream providers.
SSD VPS Offers
 Promo 1 GB SSD RAM

Disk Space: 15 GB SSD
Bandwidth: 1 TB
RAM: 1 GB
CPU Cores: 2
IPv4: 1
OpenVZ/SolusVM
Unmanaged VM
Monthly: $1.99
Annually: $19.99

 Promo 2 GB SSD RAM

Disk Space: 25 GB SSD
Bandwidth: 1 TB
RAM: 2 GB
CPU Cores: 4
IPv4: 1
OpenVZ/SolusVM
Unmanaged VM
Monthly: $2.99
Annually: $29.99
FtpIt currently accepts payments via PayPal, Credit and Debit Cards (via PayPal) and Bitcoins (via Bitpay)
Other Promotions from FtpIT
+ 3GB RAM in Los Angeles ($35/Year): Click Here
+ 512/1GB/2GB RAM in Chicago (From $12/Year): Click Here

+ 2GB RAM Buffalo NYC SSD ($5.99/Month): Click Here
+ 2GB RAM KVM in Montreal ($6/Month): Click Here
Network Information
+ Looking Glass: 
Los Angeles, California: http://lg.lax.ftpit.com/
Tampa, Florida: http://lg.tampa.ftpit.com/
Atlanta, Georgia: http://lg.atlanta.ftpit.com/