FtpIT Special Promotion – KVM VPS 4 cores + 2GB RAM only $6 per month in Montreal, Canada.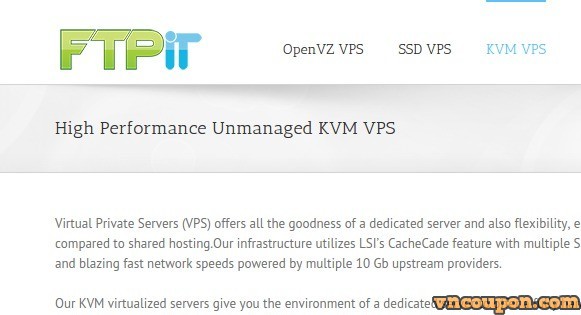 FtpIT will be offering the following KVM Package in Montreal, Canada.
Virtual Private Servers (VPS) offers all the goodness of a dedicated server and also flexibility, easily upgradable, more economical and is yet still very fast and powerful compared to shared hosting. Their infrastructure utilizes LSI's CacheCade feature with multiple SSD's used for SSD caching – which gives your VPS a performance boost and blazing fast network speeds powered by multiple 10 Gb upstream providers.
Speical Offer Plan
CPU Cores: 4
RAM: 2 GB
Disk Space: 30 GB HDD
Bandwidth: 1 TB
IPv4: 1
KVM/SolusVM
Location: Montreal, CA
Unmanaged VM
Price: $6.00 a month
Benchmark
CPU model : Intel(R) Xeon(R) CPU E5-1620 0 @ 3.60GHz
Download speed from CacheFly: 82.2MB/s
Download speed from Coloat, Atlanta GA: 11.9MB/s
Download speed from Softlayer, Dallas, TX: 32.8MB/s
Download speed from Linode, Tokyo, JP: 12.5MB/s
Download speed from i3d.net, Rotterdam, NL: 9.46MB/s
Download speed from Leaseweb, Haarlem, NL: 34.7MB/s
Download speed from Softlayer, Singapore: 6.73MB/s
Download speed from Softlayer, Seattle, WA: 19.2MB/s
Download speed from Softlayer, San Jose, CA: 21.7MB/s
Download speed from Softlayer, Washington, DC: 40.3MB/s
I/O speed : 117 MB/s
Additional options
Guaranteed RAM: $5 per 512MB per month
Additional Disk Space: $1 per 2GB per month
Additional IPs: $1 per IP per month
Additional Bandwidth: $5 per 500GB per month
Payment Information
They accept 
Network Information
Location: Montreal, Canada.
Looking Glass: http://lg.montreal.ftpit.com/
Test File: http://lg.montreal.ftpit.com/100MB.test