Hostens.eu – Web Hosting from €9.99/Year & VPS Hosting from €11.88/Year in Europe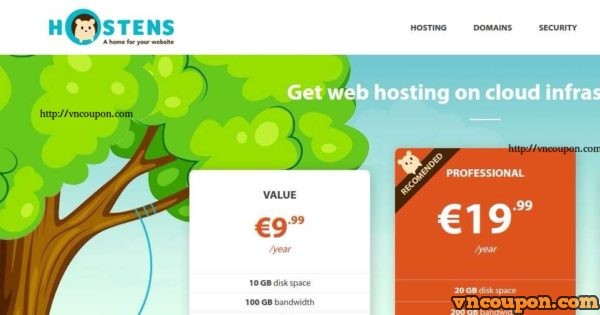 Hostens.eu is a division of Interneto Vizija, UAB, which was founded in 2003 and has quickly grown to serve more than 100,000 clients across Europe. Thanks to their loyal customers and their referrals, they became the largest web hosting provider in Lithuania by 2005. By combining affordable, scalable options with enterprise-level technology, we are able to supply their customers with domain registration, web hosting and VPS services.
Hostens.eu's Services
Domain registration – get your own domain and be visible on the internet;
SSL certificates – protect your visitors data with our hand-picked certificates for every need;
Shared hosting – for as low as 9.99 EUR per year. You won't need to worry about server side setup;
Shared hosting reseller package – start offering shared hosting to your clients and provide them with quality service;
Professional SpamExperts SPAM filter, WHOIS protection and more…
End of winter sale
You can receive additional 50% discount with this coupon code when ordering annually. Valid for annual hosting orders till 2017-03-01. One Time Discount
You can get additional 15% discount for yearly new VPS orders with promotion code
You can receive additional 15% discount, Valid for KVM servers orders till 2017-08-16.
Special OpenVZ VPS Offers
Small VPS
Intel Xeon E5-2630 v3 Guaranteed CPU: 1 x 2.40 GHz
Guaranteed DDR4 ECC REG RAM: 768 MB
Storage RAID SAS 10k RPM (SSD cached): 15 GB
High Quality Bandwidth: 1 TB (400 Mbps dedicated port speed)
Clean Dedicated IPv4: 1
Backups: Daily, Weekly
Data Center Location: Lithuania, Vilnius
Activation: Instant
Price annually: 11.88 EUR [~12.60 USD] (0.99 EUR/mo. [~1.05 USD/mo.])
Medium VPS
Intel Xeon E5-2630 v3 Guaranteed CPU: 1 x 2.40 GHz
Guaranteed DDR4 ECC REG RAM: 1536 MB
Storage RAID SAS 10k RPM (SSD cached): 30 GB
High Quality Bandwidth: 2 TB (400 Mbps dedicated port speed)
Clean Dedicated IPv4: 1
Backups: Daily, Weekly
Data Center Location: Lithuania, Vilnius
Activation: Instant
Price annually: 17.88 EUR [~18.96 USD] (1.49 EUR/mo. [~1.58 USD/mo.])
Large VPS
Intel Xeon E5-2630 v3 Guaranteed CPU: 1 x 2.40 GHz
Guaranteed DDR4 ECC REG RAM: 3072 MB
Storage RAID SAS 10k RPM (SSD cached): 60 GB
High Quality Bandwidth: 3 TB (400 Mbps dedicated port speed)
Clean Dedicated IPv4: 1
Backups: Daily, Weekly
Data Center Location: Lithuania, Vilnius
Activation: Instant
Price annually: 35.88 EUR [~38.04 USD] (2.99 EUR/mo. [~3.17 USD/mo.])
Special KVM VPS Offers
Small VPS
40 GB disk space
10 TB bandwidth (100 Mbps)
2048 MB RAM memory
1 CPU core
Daily/Weekly backups

(optional)

Price annually: 41.88 EUR [~49.36 USD] (3.49 EUR/mo. [~4.11 USD/mo.])
Medium VPS
80 GB disk space
20 TB bandwidth (200 Mbps)
4096 MB RAM memory
2 CPU core
Daily/Weekly backups

(optional)

Price annually: 143.88 EUR (9.99 EUR/mo)
Large VPS
160 GB disk space
40 TB bandwidth (400 Mbps)
8192 MB RAM memory
4 CPU core
Daily/Weekly backups

(optional)

Price annually: 71.88 EUR (19.99 EUR/mo)
Shared Hosting Plans
+ Services are set up in minutes after received payment
+ Installatron allows install, update and backup 100+ scripts and content management systems
+ Hosting platform built on enterprise level hardware with reliability and redundancy in mind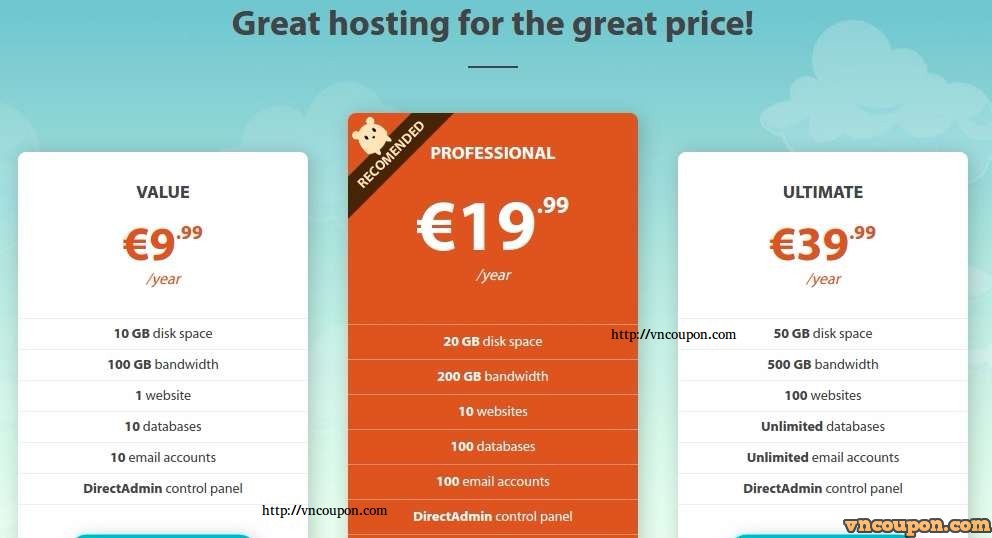 Network Information
+ Location: Vilnius, Lithuania
+ Looking Glass: lg.hostens.eu