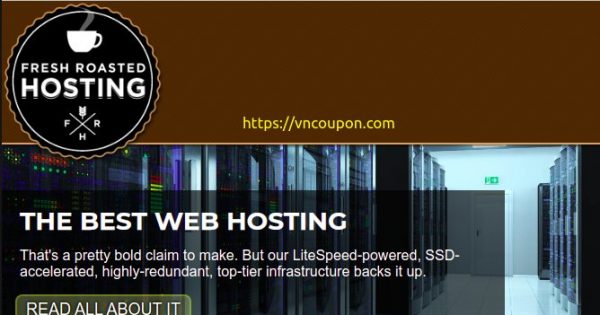 About Fresh Roasted Hosting
Fresh Roasted Hosting LLC is an independent web hosting company with technical staff headquartered in vibrant New Castle, Delaware. Tucked in among coffee houses, independent retailers, and the oldest continually-operating market house in Harrisburg, we deliver all the same high-end web hosting solutions you'd expect from our larger competitors, but with much better service — and often at a better price!
Premium VPS Plans
A Virtual Private Server (VPS) is the ultimate in flexibility.  Our automated provisioning system lets you instantly create custom virtual servers whenever you need them.  Best of all, it's easy to add or remove resources as your needs change.  And unlike some "discount" Virtual Private Server providers, using Fresh Roasted Hosting as your virtual private server provider you can trust that your memory and disk space are always guaranteed!
Unroasted
Green
Light Roast
Medium Roast
Dark Roast
Payment Information
They accept Visa, Mastercard, AMEX,Discover, and PayPal.