EvoBurst Solutions – Resource Pool Offers from 1GB RAM $15.00 Per YEAR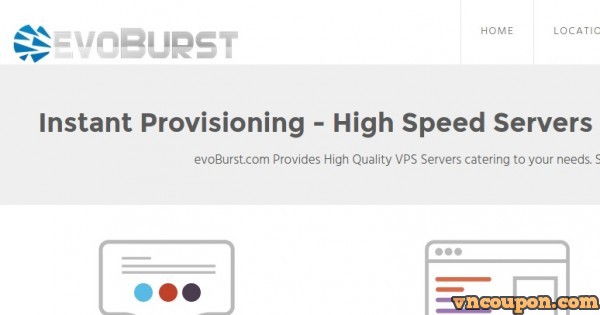 Today, I received email from EvoBurst Solutions, they have made up some great discounts for their products.
About EvoBurst
EvoBurst is a registered company in Australia and has been registered since October 2014. They have 4 Brands: EvoBurst, BudgetVZ, MegaVZ, NanoVZ.
EvoBurst Brand Offers
Limited Edition – EvoBurst-1G-BF-2015
Limited Edition – EvoBurst-2G-BF-2015
Limited Edition – EvoBurst-6G-BF-2015
With the "EvoBurst" offers, they would like to offer one EXTRA IPv4 address for all new services in The Netherlands (available by redeption only) – Click to open Ticket Department
BudgetVZ Brand Offers
Limited Edition -BudgetVZ-1G-LEB-2015
Network Information
Seattle, Washington
+ IPv4: 107.155.106.130
+ IPv6: 2604:880:8:2::2
Dronten, The Netherlands
+ IPv4: 5.178.64.172
+ IPv6: 2a00:1ca8:26::4
Los Angeles, California
+ IPv4: 107.181.152.152
+ IPv6: 2602:ffda:da:2:216:3eff:fe25:a00c