EasyWP – Managed WordPress by Namecheap only $8.88 for first year – Happy 1st Birthday to EasyWP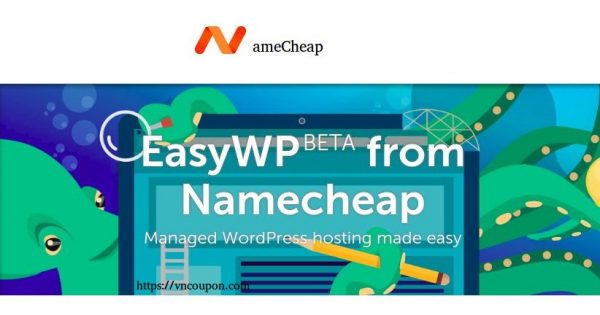 With EasyWP, new managed WordPress platform, launch a new WordPress website in seconds. EasyWP brings you the power of WordPress without any hassle.
Happy 1st Birthday to EasyWP!
Sign up today and host more than one website for just $8.88 per site for the 1st year.
EasyWP Features
– Quick to Start
Setup your new WordPress website in less than 30 seconds. Forget about getting a server, choosing the PHP version, reading the manual and scratching your head. EasyWP makes WordPress much more accessible!
– By Namecheap
Built with love by Namecheap. This means you can expect our awesome customer service, great prices on domains and find it super easy to select the right domain for your new WordPress website. Oh, and we're kinda cool too…
– Easy to Mantain
EasyWP makes it very easy to manage and maintain your WordPress websites. Backup, update, put into dev mode and more with just a click or two. And we're constantly adding new features to give you more at your finger tips.
– Grow Effortlessly (coming soon)
Start small, grow big? We're here every step of the way. Hosted on our own cloud, we deliver blazingly fast WordPress performance that grows as your website grows. Without headaches, of course.
– Simple Pricing
We love delivering great value to our customers. EasyWP offers great value for performance, reliability, ease of use and speed. And yes, the price isn't too good to be true 🙂
Starter Plan
WordPress setup in 30 seconds or less
Connect to your Namecheap domain
1 WordPress website
5GB of SSD Storage
Easy Backups
Namecheap Support
$8.88/yr in the first year
Renewal price $29.88/year
Namecheap Coupon & Promo Codes: Click Here