Delimiter – Dedicated Core VPS Hosting from $6.95/Month – Double RAM or Double Disk on Annual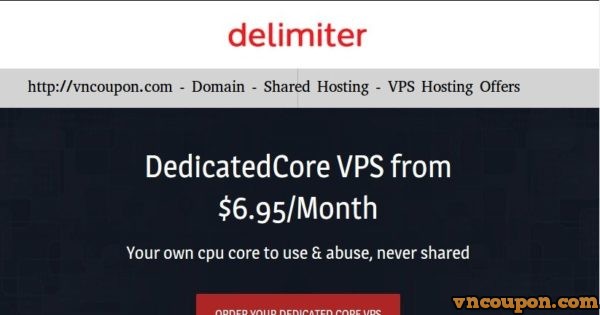 KVM based VPS with dedicated CPU, Memory and Disk resources. These systems are designed where you need to be able to thrash the CPU 24×7 without risk of being suspended or causing disruption to other neighbours. These are perfect for transcoding, rendering, number crunching or game-servers.
Promo: Go Annual for Double RAM or Double Disk, put your choice in the order notes.
Dedicated Core Plans
ATL: Dedicated Core-1 HDD
40GB HDD Storage
1TB Bandwidth
1GB Memory
1 Dedicated CPU
1 IPv4
Atlanta Location
$19.50 USD

/ Quarterly ( $6.95/Month

)
ATL: Dedicated Core-2 HDD
80GB HDD Storage
2TB Bandwidth
2 GB Memory
2 Dedicated CPU
2 IPv4
Atlanta Location
$39.00 USD

/ Quarterly
ATL: Dedicated Core-4 HDD
160GB HDD Storage
4TB Bandwidth
4 GB Memory
4 Dedicated CPU
4 IPv4
Atlanta Location
$28.00 USD

/ Monthly
Other promotions
+ Dedicated Servers only $100/year: Click Here
+ Try ObjSpace 1 month for free: Click Here
+ Storage VPS from $7/month: Click Here