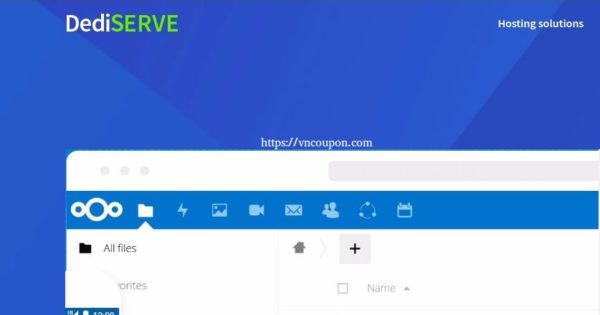 Dediserve Vault – This is Nextcloud-based collaborative storage platform, complete with desktop and mobile apps, they are currently offering a 10GB allocation totally free!
Dediserve Vault plan
| | |
| --- | --- |
| Plan | Price |
| 10GB Vault |  Free |
| 50GB Vault | €2.50 EURO Monthly |
| 100GB Vault | €5.0 EURO Monthly |
| 250GB Vault | €12.50 EURO Monthly |
| 500GB Vault | €25.0 EURO Monthly |
| 1TB Vault | €50.0 EURO Monthly |
Claim your 10GB here: Click Here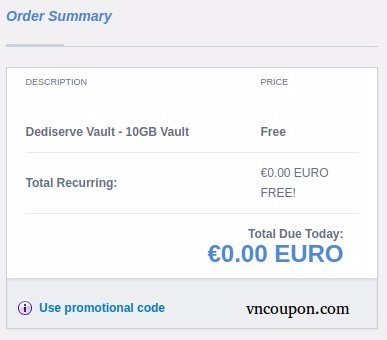 About NextCloud
The Next Generation of Secure Collaboration. Nextcloud 12 redefines Enterprise File Sync and Share, bringing it to the next level with built in collaboration and communication capabilities. Working together was never easier!
Nextcloud files are stored in conventional directory structures, and can be accessed via WebDAV if necessary. User files are encrypted during transit and can be encrypted at rest (requires encryption to be turned on). Nextcloud can synchronise with local clients running Windows (Windows XP, Vista, 7 and 8), OS X (10.6 or later), or various Linux distributions.
Nextcloud users can manage calendars (CalDAV), contacts (CardDAV), scheduled tasks and streaming media (Ampache) from within the platform.
From the administration perspective, Nextcloud permits user and group administration (via OpenID or LDAP). Content can be shared by defining granular read/write permissions between users and/or groups. Alternatively, Nextcloud users can create public URLs when sharing files. Logging of file-related actions, as well as disallowing access based on file access rules is also available.
Furthermore, users can interact with the browser-based text editor, bookmarking service, URL shortening suite, gallery, RSS feed reader and document viewer tools from within Nextcloud. For additional extensibility, Nextcloud can be augmented with "one-click" applications and connection to Dropbox, Google Drive and Amazon S3.
Nextcloud is introducing new features such as monitoring capabilities, full-text search and Kerberos authentication, as well as audio/video conferencing, expanded federation and smaller UI improvements.
Nextcloud is available in Fedora repository.