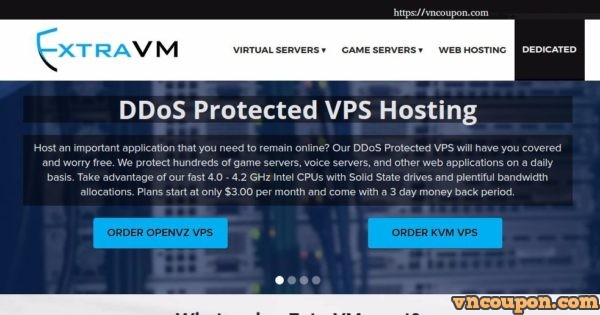 ExtraVM has some limited use promotions right now for Black Friday. All come with DDoS mitigation, IP and network firewall management, SSD or NVMe SSD, IPv6 and fast ticket response times. Availability of each is listed above the plan, availability is at the time of posting and won't be updated.
Black Friday 2017 Specials
OVZ i7 128MB RAM
OVZ i7 Game
KVM NVMe
cPanel Web Hosting
OVZ i7 Game
Servers are setup instantly unless space has ran out, in which case new systems will be seutp to complete orders but may take up to 2 hours to complete.
+ While ExtraVM doesn't have an official uptime SLA, any downtime caused by datacenter network or hardware issues is typically compensated to affected clients with 10%-30% credits of last invoice. Official SLA of 99.95% will be implemented in the near future.
+ They don't provide or license Windows for KVM VPS.
+ All standard Linux operating systems are available, or you can request your own ISO mounted for KVM VPS.
+ All accounts go through a manual fraud check shortly after ordering, if an account doesn't pass or is considered a risk you will be refunded.
+ OpenVZ VPS that exceed 50,000 conntrack or 200K PPS may be automatically suspended to prevent issues for other clients
+ ExtraVM provides a 3 day refund period, if you're not happy with the services provided please open a ticket requesting a refund.