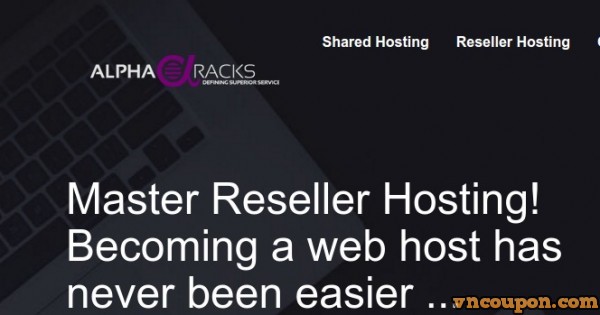 Alpharack Master Reseller hosting special sale is on, right now!
What is a Master Reseller?
AlphaRacks master reseller hosting allows you to start your own hosting company or business. Master reseller plans have access to an add-on called "WHMPHP," allowing you to create and sell reseller hosting plans too! If you are searching for a master reseller provider that will not let you down, you have come to the right place. Take a look at our specials!
Create Shared Hosting Accounts
Create Reseller Accounts
cPanel & WHM Control Panel
WHMPHP Addon
Free Website Migration
Instant Deployment
By choosing AlphaRacks, you and your customers benefit with:
+ LiteSpeed Web Server – blistering fast website performance
+ Softaculous Auto-Installer – install up to 360 different scripts within a few clicks
+ CloudLinux – all servers are running CloudLinux providing you with the stability and security you need
+ KernelCare – all servers are running KernelCare, your website will never be offline during kernel updadtes or system maintenances!
+ DDoS Protected – all master reseller hosting servers are now DDoS protected, attacks will not take you or your customers down!
+ Free Website Templates – start your own hosting company with beautiful HTML templates we have ready for you to use
+ Reseller Resources Access – get access to AlphaRacks' exclusive reseller resources tool for all the tools you need to start your own hosting company (Unlimited SSL Certificates, Free Domain Reseller, Legal Documents generator, and more)
Special Master Reseller
NEXT 72 HOURS ONLY .. FREE DOUBLE BANDWIDTH! They recently upgraded our network to add more capacity and performance. If you order any of the specials at the link above within the next 72 hours, they will double your monthly bandwidth limit for the life of the account. Email their at [email protected] after you've placed your order, and one of our Support Specialists will proceed with doubling your bandwidth.
STARTER PLAN
20 GB Secure Disk Space
750 GB Bandwidth
Shared IP Address
$12.00 per year
ADVANCED PLAN
60 GB Secure Disk Space
3500 GB Bandwidth
Dedicated IP Address
$24.00 per year
BUSINESS PLAN
300 GB Secure Disk Space
Unmetered Bandwidth
2 Dedicated IP Addresses
$36.00 per year