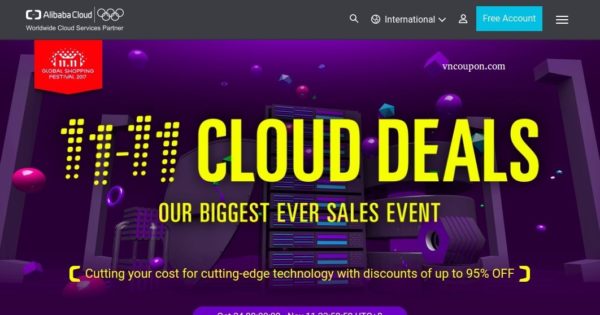 Singles' Day or Guanggun Jie (Chinese: 光棍节; pinyin: Guānggùn Jié; Wade–Giles: Kuang-kun chieh; literally: "bare sticks holiday") is an entertaining festival widespread among young Chinese people, to celebrate the fact that they are proud of being single. The date, November 11th (11/11), is chosen because the number "1" resembles an individual that is alone. This festival has become the largest online shoppingday in the world, with sales in Alibaba's sites Tmall and Taobao
Deals open: Oct 24 00:00:00 – Nov 11 23:59:59 UTC+8 => Check offers here
Credit Offers
Collect $370 in 11-11 Credit

Best Deals
Cloud Server + Data Transfer (12 Regions Globally)
1 Core CPU (Broadwell CPU)
1 GB Memory (DDR4)
40 GB SSD Cloud Disk
1 TB Data Transfer (VPC)/month
Up to 95% off
From $4.50/month (11/11 Pricing)
Web Hosting Package (Hong Kong & US West Regions)
1 Website
5 GB Web Space
512 MB Memory
50 GB Data Transfer/month
1 Domain (.win/.club/.loan/.bid)
Free DNS
Only $ 1.00/month (88% off – 11/11 Pricing)
China Server Package (Mainland China)
1 Core CPU (Broadwell CPU)
1 GB Memory (DDR4)
40 GB SSD Cloud Disk
Optional: 1 TB Data Transfer (VPC) x 12 Months
Only $ 1.00/month (94% off – 11/11 Pricing)
SD Cloud Server + Data Transfer Yearly Package
Up to 95% OFF! Limited-time offer.
Available for servers in Singapore, Sydney, US (Virginia and Silicon Valley), and Frankfurt regions.

China Server Package
Mainland China Servers from $1/month! Offer only available during the 11-11 Cloud Deals Period.
Choose from monthly or yearly packages, with or without data transfer.

Website Special Offers
Purchase Hong Kong or US Web hosting packages for just $1/month and enjoy other website products at low prices.