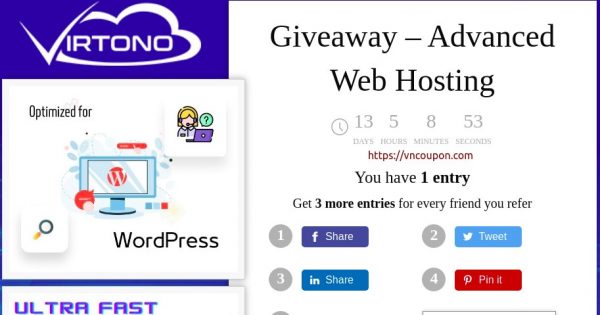 I wanted to let you know that we are giving away 5 x Advanced Web Hosting plan (worth €215 each) FREE for 3-years with Virtono.
Web Hosting Advanced Features
Unlimited Storage
Unlimited Domains Hosted
Dedicated IP address.
2 CPU Cores, 2GB Dedicated RAM
Powered by cPanel.
Everybody is a winner
All participants of the giveaway will receive a Coupon Code via email. The coupon can be used to get a 25% Discount for any Cloud or Web Hosting service listed on Virtono Website.
If you want to sign-up for the giveaway, click the following URL:
=> I Want Free Hosting, Sign Me Up!
Giveaway Ends: March 31, 2021 11:45 PM EET
Prizes Awarded: April 5, 2021 2:00 PM EET
P.S.: Increase your chances of winning the giveaway by sharing it. Every friend you refer will get you 3 more chances of winning.