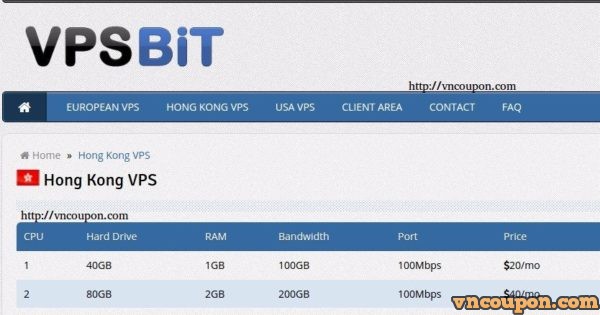 VPSBiT.com is offer a limited stock special offer from Hong Kong.
Product Information
General:
Powered by XenServer virtualization technology.
All plans includes 1 IPv4 address as standard (additional IPs may be ordered on request).
Instant setup.
Instant remote reboots.
Remote OS reinstall.
Full root/admin access
Console access (virtual KVM)
512MB Special Plan
1vCPU (3GHz)
512MB RAM
350GB Disk Space
1IPv4 Address
3TB Data Transfer on 100Mbit Port
Server Location: Hong Kong
$7 /month (BitCoin/CarrotPay ONLY for our Special Offer Server)
Notes: 
– No Direct Route to China. For China, you may expect latency to be above 200ms. You can still expect low latency to Hong Kong (<10ms), Singapore (<30ms) and Japan (<50ms) and so on.
– No Refunds
– Server is unmanaged.
– Remember to select an OS that can be installed on 512MB RAM
– Paymnet By BitCoin (CarrotPay) only. Paypal / Credit Card will not be accepted.