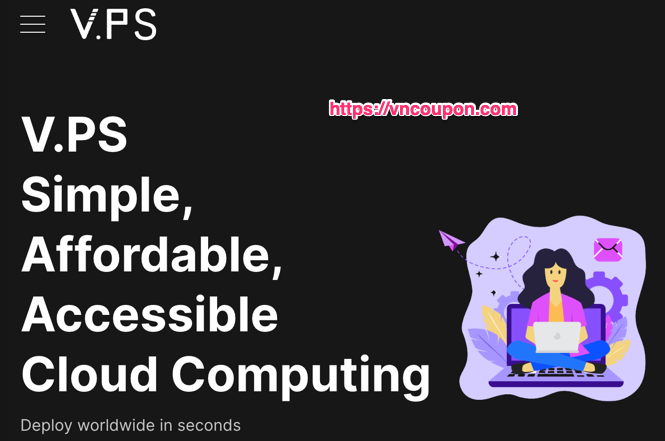 V.PS is part of xTom, an affordable colocation and IP transit provider since 2012. They own all enterprise hardware from Dell, Super Micro & Samsung, network and IP space.
Hong Kong KVM VPS features:
Intel(R) Xeon(R) Gold 6148
Intel D3-S4510 Enterprise NVMe SSDs
KVM Virtualization on Proxmox VE
Reverse DNS (PTR) configuration on client area
HKG1-MINIPRO-1C1G
1GB RAM
1x vCPU
15GB NVMe space
600GB transfer
500Mbps uplink
1x IPv4
1x IPv6
KVM/Proxmox
€39.95/year
Coupon Code for Existing Customers: VY1O10EQXV
Existing customers only. Expiration date is Oct 1st.
14-day money back guarantee.
Network Information
Test IPv4: 157.119.101.101
Test IPv6: 2403:2c80:1000::223
Test file: https://hkg.lg.v.ps/100MB.test
Looking glass: https://hkg.lg.v.ps/
Speedtest: https://hkg.speedtest.v.ps/
VPS benchmark
# ## ## ## ## ## ## ## ## ## ## ## ## ## ## ## ## ## #
# Yet-Another-Bench-Script #
# v2022-08-20 #
# https://github.com/masonr/yet-another-bench-script #
# ## ## ## ## ## ## ## ## ## ## ## ## ## ## ## ## ## #

Fri 23 Sep 2022 05:36:11 PM UTC

Basic System Information:
———————————
Uptime : 0 days, 0 hours, 4 minutes
Processor : Intel(R) Xeon(R) Gold 6148 CPU @ 2.40GHz
CPU cores : 1 @ 2394.380 MHz
AES-NI : ✔️ Enabled
VM-x/AMD-V : ✔️ Enabled
RAM : 979.0 MiB
Swap : 256.0 MiB
Disk : 14.7 GiB
Distro : Debian GNU/Linux 11 (bullseye)
Kernel : 5.10.0-18-cloud-amd64

fio Disk Speed Tests (Mixed R/W 50/50):
———————————
Block Size | 4k (IOPS) | 64k (IOPS)
—— | — —- | —- —-
Read | 67.18 MB/s (16.7k) | 931.69 MB/s (14.5k)
Write | 67.35 MB/s (16.8k) | 936.59 MB/s (14.6k)
Total | 134.53 MB/s (33.6k) | 1.86 GB/s (29.1k)
| |
Block Size | 512k (IOPS) | 1m (IOPS)
—— | — —- | —- —-
Read | 1.23 GB/s (2.4k) | 1.22 GB/s (1.1k)
Write | 1.30 GB/s (2.5k) | 1.30 GB/s (1.2k)
Total | 2.54 GB/s (4.9k) | 2.53 GB/s (2.4k)

iperf3 Network Speed Tests (IPv4):
———————————
Provider | Location (Link) | Send Speed | Recv Speed
| | |
Clouvider | London, UK (10G) | 320 Mbits/sec | 430 Mbits/sec
Online.net | Paris, FR (10G) | 432 Mbits/sec | 441 Mbits/sec
Hybula | The Netherlands (40G) | 345 Mbits/sec | 385 Mbits/sec
Uztelecom | Tashkent, UZ (10G) | 431 Mbits/sec | 449 Mbits/sec
Clouvider | NYC, NY, US (10G) | 336 Mbits/sec | 438 Mbits/sec
Clouvider | Dallas, TX, US (10G) | 362 Mbits/sec | 451 Mbits/sec
Clouvider | Los Angeles, CA, US (10G) | 396 Mbits/sec | 458 Mbits/sec

iperf3 Network Speed Tests (IPv6):
———————————
Provider | Location (Link) | Send Speed | Recv Speed
| | |
Clouvider | London, UK (10G) | 312 Mbits/sec | 425 Mbits/sec
Online.net | Paris, FR (10G) | 422 Mbits/sec | 434 Mbits/sec
Hybula | The Netherlands (40G) | 310 Mbits/sec | 404 Mbits/sec
Uztelecom | Tashkent, UZ (10G) | 353 Mbits/sec | 409 Mbits/sec
Clouvider | NYC, NY, US (10G) | 328 Mbits/sec | 433 Mbits/sec
Clouvider | Dallas, TX, US (10G) | 345 Mbits/sec | 440 Mbits/sec
Clouvider | Los Angeles, CA, US (10G) | 392 Mbits/sec | 453 Mbits/sec

Geekbench 5 Benchmark Test:
———————————
Test | Value
|
Single Core | 871
Multi Core | 876
Full Test | https://browser.geekbench.com/v5/cpu/17495370