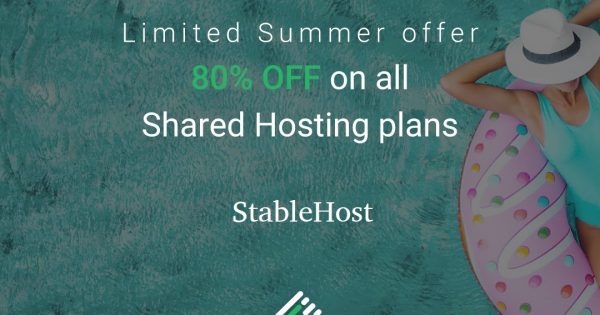 On Summer 2020, StableHost offer 80% Off on all Shared Hosting!
Until the 30/8 they have a limited summer offer on 80% off on all shared hosting plans! With PRO and PLATINUM web hosting packages, you will also get 01 domain name .COM, .NET, .ORG, .BIZ or .INFO for free.
Coupon Code: summer80
=> Promo Link
Campaign Terms:
• Only new registrations, no renewals.
• This pricing is only for the first period.
• Unlimited registrations.
• Your orders must be paid for no later than 30/8 11.00 PM CET. (Or they will be deleted)
StableHost is an experienced hosting provider that offers high-quality hosting solutions with a wide range of features at affordable prices. Just be aware that the website displays the best possible prices for long-term commitments with introductory discounts.