NexusBytes Weekly Special – SSD VPS from $15/Year – AMD/NVMe VPS + Resource Pool (NYC/LA/Germany)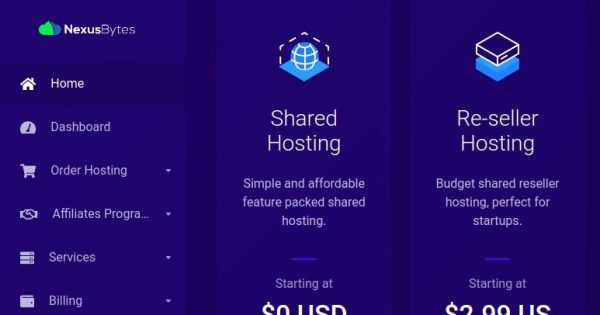 NexusBytes sent some their offers, Special SSD VPS from $10/Year with more coupon codes.
About NexusBytes
Your web hosting partner. Nexus Bytes LLC is a privately owned hosting company established in 2016. We are based out of Middletown, Connecticut, USA. We are legally incorporated as a business in the State of Connecticut. Here at Nexus Bytes LLC, we are passionate about web hosting and server management and pride ourselves in providing reliable and affordable web hosting service to the masses at a price they can afford.
NexusBytes Coupon Codes
10% Recurring Discount All Services => Order Link
80% Off First Month All Services => Order Link
=> Order Link (AMD Ryzen Powered VPS)
=> Order Link (AMD Ryzen Cloud Pool VPS)
=> Order Link (AMD Ryzen Powered VPS)
=> Order Link (AMD Ryzen Cloud Pool VPS)
Weekly Special VPS Plan
LowendBack-LXC SSD Special
Space : 3 GB Raid 10 SSD
RAM : 128 MB
Swap : 64 MB
CPU : 1 Core @3.5Ghz+ Fair Share
Bandwidth : 100 GB @100Mbit
IPv4 : 1
No IPv6
LXC Virtualization
48hr Refund policy
$15/Year
Order Link (

Out of stock

)
Nano SSD 
SPACE 5GB (10GB With Annual Payment)
RAM 512 MB
BANDWIDTH 500 GB @100 Mbit
CPU CORE 1 @3.5GHz+*
IPv4 1
$24/year
VPS-1G 
RAM: 1 GB
Storage: 15 GB (20 GB With Annual Payment)
Bandwidth: 1000 GB (@1Gbit)
CPU Core: 1 @3.5+ GHz (Fair Share)
IPv4: 1
IPv6: 1x /64 (Not Available In Germany)
Free Blesta Billing Software
Free Windows Server 19 Standard License (With Annual Payment)
NAT Backup VPS.
From $4.00/mo
VPS-2G 
RAM 2 GB
Storage 30 GB (40 GB With Annual Payment)
Bandwidth 2000 GB (@1Gbit)
CPU Core 2 @3.5+ GHz (Fair Share)
IPv4 1
IPv6 1x /64 (Not Available In Germany)
Free Blesta Billing Software
Free Windows Server 19 Standard License (With Bi-Annual and Annual Payment)
NAT Backup VPS.
From $8.00/mo
Starter Pool 
Maximum VM 2
RAM 2 GB
Storage 20 GB NVMe (25 GB With Annual Payment)
Total CPU Core 2 @3.5GHz
Max CPU Core/VM 2 @3.5GHZ
Bandwidth 2 TB (3 TB With Annual Payment)
IPv4 2
IPv6 2x /64 (NY only)
1 Free Windows Server 19 License with Annual Payment.
1 Blesta License (Please Open Ticket)
Starting from $8.00 USD/month
Payment Information
Debit/Credit Card
Paypal
Bitcoin / BitcoinCash / LiteCoin / Ethereum
48 Hour Refund Policy
Looking Glass: