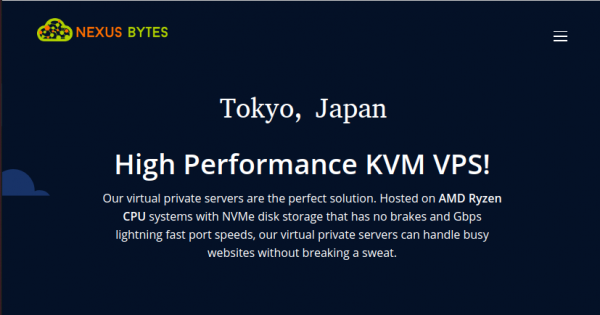 To celebrate the launch of the TOKYO location NexusBytes are offering:
DOUBLE storage and DOUBLE BANDWIDTH for our Tokyo location, use coupon code: DoubleMeUp
For existing Nexus Bytes Customers, with an paid active service, an additional, recurring 5% discount on any new orders with promo code: FamilyFirst
This applicable to not only the current promo but also all our standard product lines
Double Storage when you pay for 6 months or more
Double Monthly Bandwidth when you pay for 12 months or more – Excludes Tokyo
Premium Asian KVM VPS range
With 6 months commitment: VPS-1G
1 x vCore @ Ryzen 3.5Ghz (fair share)
1GB Ram
30GB Disk
250 GB Bandwidth Transfer @1Gbit
$21.60/6 month. ($3.60/mo)
ORDER LINK (Save 10%)
With annual commitment: VPS-1G
1 x vCore @ Ryzen 3.5Ghz (fair share)
1GB Ram
40GB Disk
500 GB Bandwidth @1Gbit
$38.40/year ($3.20/month).
ORDER LINK (Save 20%)
=> More plans
Offer terms: (removing the exclusive, as it might be harder to track without manual user name validation. Plus affiliate spammers).
New Orders only.
Only valid for orders placed for Tokyo, Japan location.
Applies to both "Premium VPS and vDedi product line"
Annual commitment required (If one combines with Contract buyout, that can easily be up to 6 months of free service, on next renewal!!)
1 Redemption per account.
Credit will be applied once the order has been paid for and activated.