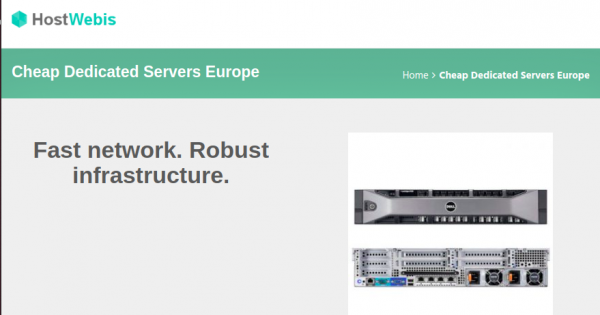 HostWebis offer special dedicated available for everyone starting now, Cheap Basic Dedicated Server with the following specifications.
About HostWebis
Since 1998 HostWebis offers superior, reliable, and affordable Web Hosting to individuals and small businesses from more than 20 countries.
Dedicated Features
Same-day Setup
Professional and Fast support 24/7
Can be used for sending and receiving email
Same day delivery
Free setup!
Basic Dedicated Server
Server: AMD Opteron Octa-Core, 8×2, 4 GHz Turbo
Cores: 8
CPU: 2.4 GHz
RAM: 16 GB
Storage: 2 TB SATA II
Bandwidth: 100 Mbps
IPs: 4
Same day delivery
Free setup!
Anti-DDoS Protection
No setup fee
Cancel anytime
Additional IP available upon requested
Location: France
Same day delivery
24*7 Support by tickets
Tickets are answered in 4h or less
Online chat available every day from 8h to 24h GMT
$39,19/month using coupon 31DESC4ME code valid until 25 June 2021.
Some of reviews
https://www.serchen.com/company/hostwebis/#reviews
Payment Methods
PayPal
Credit Card
SEPA Bank Transfer
MB WAY (Portugal)
Multibanco (Portugal)