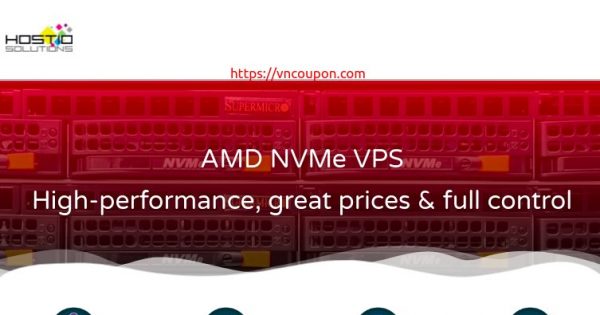 Get your Hostio AMD NVMe VPS and boost your IT performance now! VN-Coupon Exclude offers: AMD NVMe VPS Offers from $5/month
Note: please look for another provider
About Hostio Solutions
Hostio Solutions (a label of Access2.IT Group B.V.) is a hosting provider in the Netherlands. Since 2006, we have been providing our customers with hosting services and servers of impeccable quality.
Our mission is to make our customer's businesses successful, which in turn, of course, also makes us successful. We are a privately owned company that doesn't have any shareholders: our customers are our priority.
Above all, we are here for you day in and day out. Whether you have a small or a large company. We make sure that your services, websites, and applications are available 24/7.
VPS Features
All of  AMD NVMe hypervisors are protected with RAID 10 to ensure the best performance and redundancy.
KVM virtualization
Public IPv6 network
Reverse DNS
Custom ISOs
DDoS Protection
100% privately owned
No long term contracts
Partners
Cluster environment
Customization
Private cloud
VPS Plans
Hostio VPS X2
2 vCores AMD EPYC
2 GB RAM DDR4
25 GB NVMe
5 TB Premium traffic
1x IPv4 + IPv6 /64
1 Gbps Uplink
Now € 5,00 per month
*Payment per 3 months
Order now
Hostio VPS X4
4 vCores AMD EPYC
4 GB RAM DDR4
50 GB NVMe
10 TB Premium traffic
10 Gbps Uplink
Now € 9,00 per month
Order now
Hostio VPS X8
8 vCores AMD EPYC
8 GB RAM DDR4
150 GB NVMe
20 TB Premium traffic
10 Gbps Uplink
Now € 18,00 per month
Order now
Hostio VPS X16
16 vCores AMD EPYC
16 GB RAM DDR4
300 GB NVMe
25 TB Premium traffic
10 Gbps Uplink
Now € 36,00 per month
Order now
Payment methods
iDeal / Revolut
Bank Transfer
Creditcard
PayPal
VPS nodes
Supermicro 1024US-TRT 1U server
CPU 2 x AMD Epyc 7452 32C/64T 2.3Ghz
RAM 16 x 32GB DDR4-3200 ECC REG
SSD 4 x Samsung PM983 NVMe SSD
NIC Intel X520-DA2 Dual 10GbE SFP+ Card
Network Information
They operate from their own network (AS208258) in the Netherlands.
Test IPv4: 45.151.157.200
Test IPv6: 2a0e:5540:11:200::1
Looking glass: http://lg.hostio.solutions/
Optional DDoS protection service filters on layer 3 + 4, we can filter up to 500 Gbps. Most DDoS-attacks are bought on the internet. 99% percent of the attacks use a UDP-attack which can be blocked on our network.