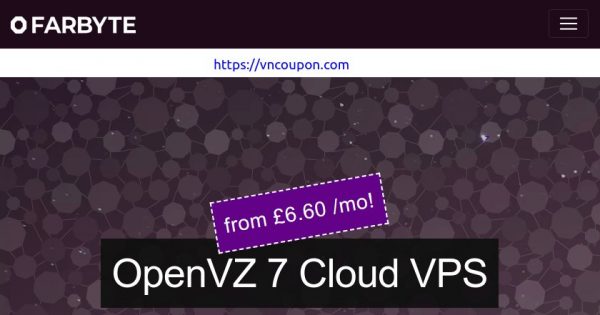 Farbyte offer Premium UK Cloud Virtual Server Hosting Offer with Intel OPTANE NVME. You can get started today for around $8 / month!!!
About Farbyte
In early 2006, Farbyte's founder, Mark was tired with the poor reliability, support & performance provided by many of the website hosting companies in the UK & abroad.

Having experienced numerous disappointments over the years with web hosting companies both large & small, he decided enough was enough.

With over 20 years experience in designing & supporting highly available enterprise solutions for the UK government, banks & other commercial enterprises, Mark set about designing a reliable, affordable web hosting solution, for customers without huge corporate or government budgets.
Cloud VPS Infrastructure
Your business is important to you and your data is your most valuable digital asset. At Farbyte we understand this & have created a VPS hosting platform focused not only on performance, but uptime too! Every VPS is stored on our triple-replicated, distributed cloud storage platform.
Bargain Cloud Virtual Machines & Infrastructure!
At Farbyte theyy provide premium featured cloud VPS hosting at a fraction of the price.
Features included with all plans:
FREE – bandwidth with all VPS
FREE – reverse DNS
FREE – server / webiste migration
Public IPv4 & IPv6 addresses
Triple-replicated, distributed storage
Automated server failover (cloud)
Isolated hosting environment
Defined resource allocations (RAM, CPU, disk IO, etc.)
Click for Managed & Click for Unmanaged VPS
No contracts
Simple, easy billing
Flexible upgrades & downgrades
99.99% uptime
ISO 9000/27001 data centers
30 Day Guarantee
+ more.
Cloud OpenVZ VPS Plans
FREE DNS hosting
OpenVZ – instant deployment
Cloud KVM VPS Plans
FREE VPS firewalls
snapshots (optional)
Unmetered private VLAN (optional)
KVM – Virtual infrastructure nearly 90% cheaper than AWS, Google & Azure!
All Farbyte VPS services are located in Manchester, UK.