XHostFire – Special KVM South Korea VPS only $7/month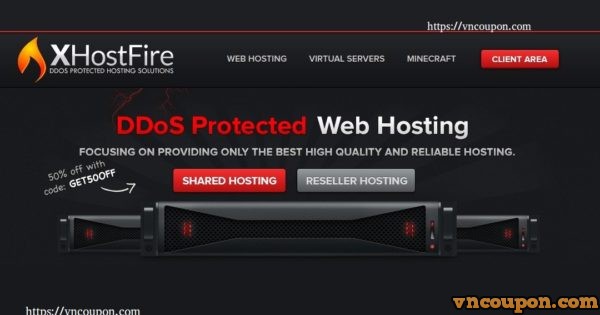 XHostFire is a web hosting provider dedicated to providing high quality web hosting at an affordable price. They care for their clients, ensuring each and every client is more than just satisfied day in and day out.
Trading name: XHostFire
+ Address: 101 Possumtown Rd, Piscataway Township, NJ 08854, United States
+ Contact phone: +1 (609) 331-9219
+ Email: support @ xhostfire.com
+ Skype contact: xhostfire
Server-specific features
KVM – RAM and storage space will exclusively be guaranteed to you. Your virtual server will be isolated from other tenants, unlike OpenVZ. Custom kernel and ISOs are supported, but you can freely use our templates for a quick deployment.
Enterprise grade hardware – Their hypervisor is powered by Dual E5v2, DDR4 memory and 10K SAS drives in a RAID 10 array.
Control panel management – You have the option to reinstall and perform a variety of power functions straight from panel (SolusVM).
Instant setup* (after successful order).
South Korea VPS
vCPU – 1 core
RAM – 768 MB DDR3
Storage – 15GB RAID 10 (HDD)
Bandwidth – 800GB @ 1Gbps.
IDC – KT (Seoul, Korea Telecom)
Cost: $7 per month.
Order link (special link) USE PROMO CODE: SPECIALVM
Virtual Servers in Greater Helsinki (Finland):
vCPU: 1x E3-1230v5
RAM: 1GB RAM DDR4
HDD Space: 20GB RAID 10 Protected
Bandwidth: 1TB on 1Gbps
Dedicated IPs: 1 + /80 IPv6 subnet
PRICE: $7/month with promo code:

LETSPECIAL
Virtual Servers in  in Khabarovsk, Russia (Far-East/Siberia region near Asia):
CPU – 1 core (2x E5-2660-v2 on host)
RAM – 768MB RAM DDR4
Storage – 10GB SAS RAID 10
Bandwidth – 1TB / 1Gbps
1 dedicated IP included.
PRICE: $6.50/month
Dedicated server in NJ, USA
CPU – Intel E3-1241 v3
RAM – 32GB DDR3 RAM
Hard Drives – 2x 1TB SATA3 with H/W RAID 1 @ LSI 3Ware
Bandwidth – 10TB (UNMETERED Incoming/Only outgoing billed)
/29 IPv4 subnet with DDoS protection* – 4 Usable
Location: New Jersey, United States
SPECIAL PRICE: $55/month
*Servers are pre-configured, owned by us and colocated. Further upgrades to hardware is not possible.
*KVM console access on request only. We provide unlimited OS re-installations for free.
*DDoS mitigation guaranteed up to 10Gbps.
Payment & Network Information
They accept a variety of payment methods such as PayPal, Credit/debit cards and Bitcoin.
If you require more traffic, please contact us for special offers.
Test IP addresses (example only to check routing):
Korea: 175.192.41.1
Uusimaa, Finland (DNA Oy + FNE-FI upstream).
Seoul, South Korea (KT Corp // no IPv6 // we use our own range)