[Black Friday 2017] UltraSeedBox – Cheapest SeedBox/Torrents Hosting from €4.75/month – 50% OFF First month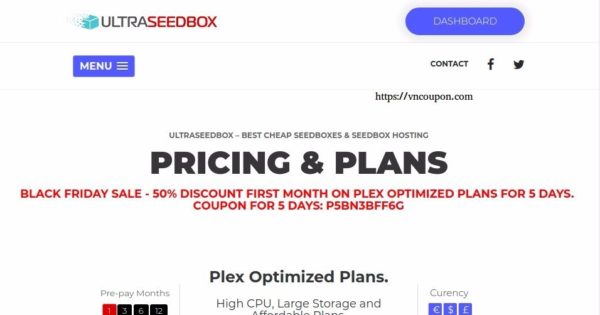 With UltraSeedbox you will be able to stream without buffers thanks to our premium class network and Plex. Using Plex you can stream any of your content to any device with ease – one click setup makes it even easier. 🙂
UltraSeedbox Features
AUTOMATION READY

We love automation, We work everyday towards improving the automation of your media by providing the access to the tools like Sonarr, Radarr, Filebot, Plex etc. We just want you to enjoy your content not to mess around with configs.

POWERFUL DASHBOARD

We have got amazing dashboard. You can perform various task with just a click like install/uninstall apps, reroute your traffic (coming soon), talk to our support agents LIVE (coming soon), ticket support system and much more.

SCALABILITY

You can upgrade/downgrade your seedbox or vps at anytime you want, Just open a ticket and we will take care of everything else.

HIGH QUALITY BANDWIDTH

We utilize the high quality and premium network, which helped us in providing very stable pings and speeds to home internet users, and great buffer less Plex experience.
SUPPORT WITH SMILE ?
They are a small team who are committed to provide the best service around and guarantee that customers will be satisfied with their services.

INSTANT SETUP

All our service comes with instant setup – your machine is online and pinging fast.
Cheap and Robust Plans.
S-WIND
M-WIND
€ 4.75 per month
10Gbps
300GB Disk
Unmetered Download
1TB Upload
Plex Not Included
PURCHASE
€ 7 per month
10Gbps
700GB Disk
Unmetered Download
2TB Upload
Plex Not Included
PURCHASE
—-
WIND
THUNDER
€ 10 per month
10Gbps
1000GB Disk
Unmetered Download
3TB Upload
Plex Not Included
PURCHASE
€ 12 per month
3 CPU | 10Gbps
1500GB Disk
Unmetered Download
4TB Upload
Plex Included
PURCHASE
Plex Optimized Plans.
High CPU, Large Storage and Affordable Plans.
BLACK FRIDAY SALE – 50% DISCOUNT FIRST MONTH ON PLEX OPTIMIZED PLANS FOR 5 DAYS.
COUPON FOR 5 DAYS: P5BN3BFF6G
=> View plans: Click Here