Reprise Hosting – Cheap Dedicated Server Special from $20/month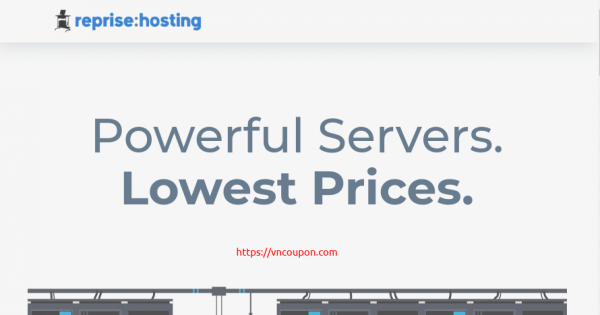 Reprise Hosting (AS62838) is a provider of best value hosting services. They specialize in low-cost solutions for real-world hosting needs. They are pleased to announce new cheap dedicated server special.
Reprise Hosting Promo Code
Use the promo code IWANTUNMETERED to receive the 50mbps unmetered bandwidth add-on for free.
Use the promo code DED10 or ZZDED10 (read below to use the correct code) to receive a 10% permanent discount. 
Become a Reprise Reseller. Maintain three or more active dedicated servers on your account and receive a unique promo code to receive a 20% recurring discount on all future orders.
Cheap Dedicated Server Special
RepriseADED Special
Intel Xeon L5420 quad-core (4 cores)
2GB 4GB DDR3 RAM (server-grade registered memory)
1TB SATA hard drive. Free swap to 120GB SSD upon request.
IPMI included free of charge (remote reboot, console, OS reloads, etc).
10TB bandwidth, 150Mbps rate limit on a 1Gbps port.
Upgrade to 1Gbps (gigabit) network speed for $1 per month!
2 usable IPs (additional IPs available).
Premium multi-homed bandwidth.
Only $24.95 $22.45 per month with DED10 code. Only $19.96 for resellers.
FREE Setup
RepriseLDED Special
Intel Xeon L5520 quad-core with hyperthreading (8 threads)
2GB 4GB DDR3 RAM (server-grade registered memory)
1TB SATA hard drive. Free swap to 120GB SSD upon request.
IPMI included free of charge (remote reboot, console, OS reloads, etc).
10TB bandwidth, 150Mbps rate limit on a 1Gbps port.
Upgrade to 1Gbps (gigabit) network speed for $1 per month!
2 usable IPs (additional IPs available).
Premium multi-homed bandwidth.
Only $29.95 $26.96 per month with DED10 code. Only $23.96 for resellers.
FREE Setup
RepriseZDED Special
Intel Xeon L5640 six core with hyperthreading (12 threads)
8GB 16GB DDR3 RAM (server-grade registered memory)
1TB SATA hard drive. Free swap to 120GB SSD upon request.
IPMI included free of charge (remote reboot, console, OS reloads, etc).
10TB bandwidth, 150Mbps rate limit on a 1Gbps port.
Upgrade to 1Gbps (gigabit) network speed for $1 per month!
2 usable IPs (additional IPs available).
Premium multi-homed bandwidth.
Only $39.95 $29.95 per month with ZZDED10 code.
Coupon: LEBFIRST10 (promo code limited to the first 10 buyers)
FREE Setup
RepriseZZDED Special (
NEW

)
2x Intel Xeon L5640 Six Core CPU (12 cores total, 24 threads).
16GB RAM (server-grade, fully buffered registered).
1TB SATA hard drive.
SuperMicro 1U chassis.
10TB bandwidth on a 100mbit port.
2 usable IPs (additional IPs available).
IPMI included (remote reboot, console, OS reloads, etc).
BGP mix of premium Level3 and AboveNet bandwidth.
Coupon: LEBFIRST10 (promo code limited to the first 10 buyers)
$34.95/month
RepriseGDED Special
Intel Xeon E5-2650L v2 Ten Core CPU with hyperthreading (20 threads)
8GB 16GB DDR3 RAM (server-grade registered memory)
1TB SATA hard drive. Free swap to 120GB SSD upon request.
IPMI included free of charge (remote reboot, console, OS reloads, etc).
10TB bandwidth, 150Mbps rate limit on a 1Gbps port.
Upgrade to 1Gbps (gigabit) network speed for $1 per month!
4 usable IPs (additional IPs available).
Premium multi-homed bandwidth.
Only $49.95 $39.95 per month with ZZDED10 code.
FREE Setup
RepriseGGDED Special
2x Intel Xeon E5-2650L v2 Ten Core CPU with hyperthreading (20 cores, 40 threads).
16GB 32GB RAM (server-grade registered memory)
1TB SATA hard drive. Free swap to 120GB SSD upon request.
IPMI included free of charge (remote reboot, console, OS reloads, etc).
10TB bandwidth, 150Mbps rate limit on a 1Gbps port.
Upgrade to 1Gbps (gigabit) network speed for $1 per month!
4 usable IPs (additional IPs available).
Premium multi-homed bandwidth.
Only $59.95 $49.95 per month with

ZZDED10

code. Only $47.96 for resellers.
FREE Setup
Optional Add-Ons
» Extra IPs: +$1.50 per IP per month
» Extra RAM: +$3.50 per 4GB per month
» Extra 1TB HDD: +$5.95 per month
» Extra 120GB SSD: +$5.95 per month
Network Information
Datacenter: Westin Building Exchange – Seattle, WA
Test IPv4: 162.253.153.4
Test file: http://test.reprisehosting.com/1000MB.test