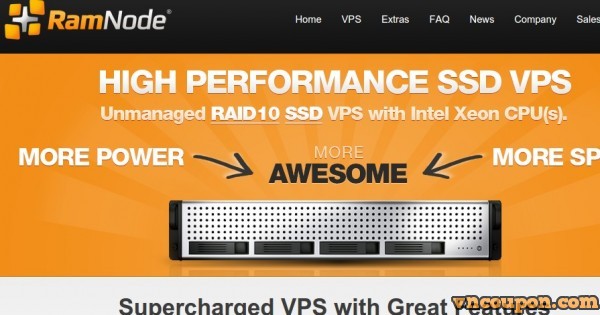 Get a $5 credit when you order a new VPS!
Coupon:
WOWSSD5
Promo Code has expired
About Us
Their VPSs are hosted in New York City, Atlanta, Seattle, and The Netherlands. Their US servers are located at Telehouse Chelsea (New York City), 55 Marietta (Atlanta) and The Westin (Seattle), where we own all of our hardware and network (AS3842). They have partnered with a provider in the Dataplace data center in the Netherlands (AS198203) to be able to offer their great plans in Europe as well.
RamNode offers KVM and OpenVZ VPSs. Please see below for more details.
VPS Features
Each VPS comes with the following features:
SolusVM control panel
1Gbps fair share port speed
Free DNS hosting
INSTANT setup
Optional DDoS protection for ALL locations
PREMIUM OpenVZ SSD VPS
128MB SVZ (v2)
RAM: 128MB
VSwap: 64MB
Cores: 1
12GB RAID10 SSD Space
1 IPv4 Address
/64 IPv6
500GB Bandwidth
Price: $15/yr Order Now – NEW YORK CITY | ATLANTA | SEATTLE | NETHERLANDS
256MB SVZ (v2)
RAM: 256MB
VSwap: 128MB
Cores: 1
25GB RAID10 SSD Space
1 IPv4 Address
/64 IPv6
1000GB Bandwidth
Price: $8/qtr Order Now – NEW YORK CITY | ATLANTA | SEATTLE | NETHERLANDS
512MB SVZ (v2)
RAM: 512MB
VSwap: 256MB
Cores: 2
50GB RAID10 SSD Space
1 IPv4 Address
/64 IPv6
2000GB Bandwidth
Price: $5/mo Order Now – NEW YORK CITY | ATLANTA | SEATTLE | NETHERLANDS
=====================================
STANDARD OpenVZ SSD VPS
512MB SVZS
RAM: 512MB
VSwap: 256MB
Cores: 1
40GB RAID10 SSD Space
1 IPv4 Address
/64 IPv6
1000GB Bandwidth
Price: $3.50/mo Order Now – NEW YORK CITY | ATLANTA | SEATTLE
1024MB SVZS
RAM: 1024MB
VSwap: 256MB
Cores: 1
60GB RAID10 SSD Space
1 IPv4 Address
/64 IPv6
2000GB Bandwidth
Price: $7/mo Order Now – NEW YORK CITY | ATLANTA | SEATTLE
=====================================
MASSIVE OpenVZ SSD-Cached VPS
128MB CVZ
RAM: 128MB
VSwap: 64MB
Cores: 1
80GB RAID10 SSD-Cached HDD Space
1 IPv4 Address
/64 IPv6
500GB Bandwidth
Price: $15/yr Order Now – NEW YORK CITY | ATLANTA | SEATTLE | NETHERLANDS
256MB CVZ
RAM: 256MB
VSwap: 128MB
Cores: 1
120GB RAID10 SSD-Cached HDD Space
1 IPv4 Address
/64 IPv6
1000GB Bandwidth
Price: $8/qtr Order Now – NEW YORK CITY | ATLANTA | SEATTLE | NETHERLANDS
512MB CVZ
RAM: 512MB
VSwap: 256MB
Cores: 2
150GB RAID10 SSD-Cached HDD Space
1 IPv4 Address
/64 IPv6
2000GB Bandwidth
Price: $5/mo Order Now – NEW YORK CITY | ATLANTA | SEATTLE | NETHERLANDS
=====================================
PREMIUM KVM SSD VPS
256MB SKVM
RAM: 256MB
Cores: 1
8GB RAID10 SSD Space
1 IPv4 Address
/64 IPv6
1000GB Bandwidth
Price: $3.50/mo Order Now – NEW YORK CITY | ATLANTA | SEATTLE | NETHERLANDS
512MB SKVM
RAM: 512MB
Cores: 2
15GB RAID10 SSD Space
1 IPv4 Address
/64 IPv6
2000GB Bandwidth
Price: $7/mo Order Now – NEW YORK CITY | ATLANTA | SEATTLE | NETHERLANDS
=====================================
STANDARD KVM SSD VPS
512MB SKVMS
RAM: 512MB
Cores: 1
10GB RAID10 SSD Space
1 IPv4 Address
/64 IPv6
1000GB Bandwidth
Price: $5/mo Order Now – NEW YORK CITY | ATLANTA | SEATTLE
=====================================
MASSIVE KVM SSD-Cached VPS
256MB CKVM
RAM: 256MB
Cores: 1
30GB RAID10 SSD-Cached HDD Space
1 IPv4 Address
/64 IPv6
1000GB Bandwidth
Price: $3.50/mo Order Now – NEW YORK CITY | ATLANTA | SEATTLE | NETHERLANDS
512MB CKVM
RAM: 512MB
Cores: 2
60GB RAID10 SSD-Cached HDD Space
1 IPv4 Address
/64 IPv6
2000GB Bandwidth
Price: $7/mo Order Now – NEW YORK CITY | ATLANTA | SEATTLE | NETHERLANDS
Looking Glass
New York City: http://lg.nyc.ramnode.com
Atlanta: http://lg.atl.ramnode.com
Seattle: http://lg.sea.ramnode.com
The Netherlands: http://lg.nl.ramnode.com