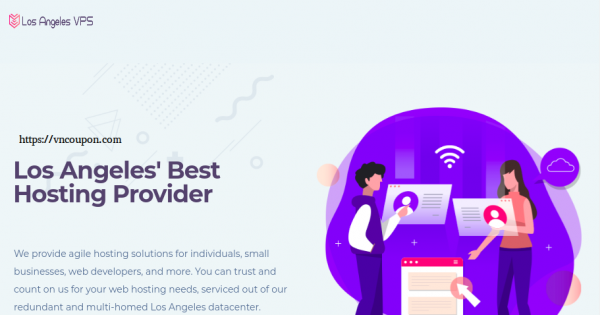 LosAngelesVPS sent us their offers in Cyber Week End: Unmetered KVM VPS from $18.49/Year in Los Angeles! They are a growing US-based provider with over 3,500 customers.  They're offering some very tasty unlimited bandwidth 1gbps KVM VPSes.
About LosAngelesVPS
Los Angeles VPS was founded with the goal to provide the absolute best VPS experience in Los Angeles. Today we host over 3500 VPS customers on our network. Hosting your server in Los Angeles provides various advantages, from a network connectivity standpoint as well as redundancy. Despite our name, Los Angeles VPS eventually grew to offer more than just VPS hosting solutions. After successfully hosting thousands of Virtual Private Servers on our network, we also expanded to start offering hosting for the individuals too. From just offering Shared Web Hosting to a complete, fully scalable product line featuring Reseller, VPS, VPS Resource Pools, and Dedicated Server solutions – LosAngelesVPS is your all-in-one solution provider for all your hosting needs!

Our servers are colocated in a premium datacenter facility (Internap LAX). All offers include 10Gbps DDoS protection powered by Path.net DDoS mitigation, and also include unmetered bandwidth.
Black Friday Unmetered KVM VPS Offers
Host Node Specs:
– Dual Intel Xeon E5-2670 [or higher]
– 256GB RAM
– 8x 2TB SSD's
– Hardware RAID-10 w/ Cache
– Dual 1Gbps Uplink
Unmetered 2GB KVM VPS
Unmetered 4GB KVM VPS
Unmetered KVM VPS Offers
1GB KVM VPS
2.5GB KVM VPS
Network Information
Internap LAX014 Datacenter, Los Angeles, CA, USA