KnownHost Budget Dedicated from $41.65/month (32G RAM) – Free DirectAdmin – 60% off your first month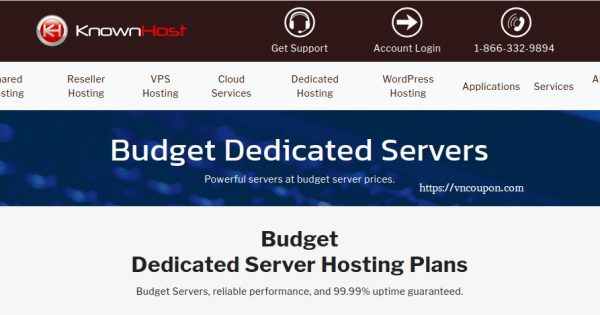 KnownHost, LLC is a privately held firm that has been providing premium managed services since 2006, and more recently they have been expanding their unmanaged offerings significantly.
Use coupon OfFAN0wp for 60% off your first month when paying monthly! This coupon is valid through November, 2020 or the first 10 uses whichever comes first.
DirectAdmin is available for FREE on all dedicated server packages.
All servers include full access to a self-management panel for remote reboots, IPMI/console, OS reloads, bandwidth tracking, and more. The panel supports sub-account access with permission control.
In most cases setup is instant. If you customize your server then setup is generally completed within a couple of hours. We have onsite staff standing by to configure your server(s)!
KnownHost Budget Dedicated Offers

Unmanaged Budget Package 1
Unmanaged Budget Package 2
Unmanaged Budget Package 3
Almost all aspects of the servers can be customized/upgraded on the order forms including RAM, disks, bandwidth, and additional IPs.
Other Offers
30% OFF Managed SSD VPS & Managed Cloud KVM VPS => Click Here
Network Information