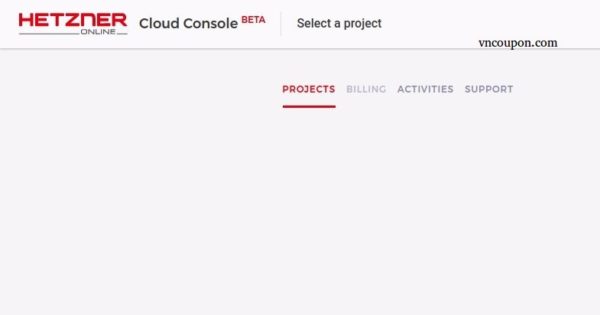 Hetzner Cloud: Free 3 cloud servers per user.
During the beta:

– There is a limit of 3 servers per user
– All resources are free
– All prices shown are dummies, for testing purposes only
– No invoices will be generated
– Not suited for production – servers will be deleted after beta

Technical as well as optical issues can happen, but we will do our best to fix them as soon as possible.

If you have any feedback or should you encounter any errors, please get in touch via email at [email protected].

Thanks and have fun!
And here's the bench.sh output from LET Forum
DC3 2GB VPS:
System Info
———–
Processor : Intel(R) Xeon(R) CPU E5-26xx (Sandy Bridge)
CPU Cores : 1
Frequency : 2194.828 MHz
Memory : 1956 MB
Swap : MB
Uptime : 10 min,
OS : Debian GNU/Linux 9
Arch : x86_64 (64 Bit)
Kernel : 4.9.0-3-amd64
Hostname : debian-2gb-nbg1-1
Speedtest (IPv4 only)
———————
Your public IPv4 is x.x.x.x
Location Provider Speed
CDN Cachefly 75.3MB/s
Atlanta, GA, US Coloat 1.04MB/s
Dallas, TX, US Softlayer 16.1MB/s
Seattle, WA, US Softlayer 2.30MB/s
San Jose, CA, US Softlayer 3.17MB/s
Washington, DC, US Softlayer 3.96MB/s
Tokyo, Japan Linode 8.53MB/s
Singapore Softlayer 10.2MB/s
Rotterdam, Netherlands id3.net 93.1MB/s
Haarlem, Netherlands Leaseweb 167MB/s
Disk Speed
———-
I/O (1st run) : 340 MB/s
I/O (2nd run) : 266 MB/s
I/O (3rd run) : 280 MB/s
Average I/O : 295.333 MB/s
DC8 2GB VPS:
System Info
———–
Processor : Intel(R) Xeon(R) CPU E5-26xx (Sandy Bridge)
CPU Cores : 1
Frequency : 2099.998 MHz
Memory : 1956 MB
Swap : MB
Uptime : 2 min,
OS : Debian GNU/Linux 9
Arch : x86_64 (64 Bit)
Kernel : 4.9.0-4-amd64
Hostname : snapshot-1043-debian-2gb-fsn1-dc8-1
Speedtest (IPv4 only)
———————
Your public IPv4 is x.x.x.x
Location Provider Speed
CDN Cachefly 71.8MB/s
Atlanta, GA, US Coloat 17.3MB/s
Dallas, TX, US Softlayer 14.6MB/s
Seattle, WA, US Softlayer 12.3MB/s
San Jose, CA, US Softlayer 12.4MB/s
Washington, DC, US Softlayer 4.75MB/s
Tokyo, Japan Linode 8.48MB/s
Singapore Softlayer 9.96MB/s
Rotterdam, Netherlands id3.net 97.1MB/s
Haarlem, Netherlands Leaseweb 208MB/s
Disk Speed
———-
I/O (1st run) : 378 MB/s
I/O (2nd run) : 369 MB/s
I/O (3rd run) : 455 MB/s
Average I/O : 400.667 MB/s