CodeAnywhere – Get $35 DigitalOcean Credit for new signups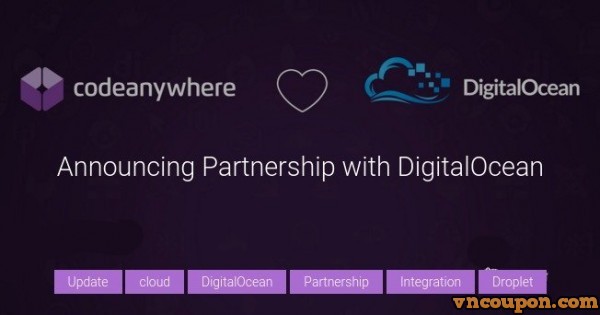 About CodeAnyWhere
Codeanywhere is a collaboration platform for developers: Cross Platform Cloud IDE including FTP and SSH Servers, Amazon S3, Dropbox, Google Drive.
To celebrate this new feature and partnership, DigitalOcean has been generous enough to provide us with $25 credit coupons for all Codeanywhere users that open a new DigitalOcean account.
Signup CodeAnyWhere for free: https://codeanywhere.com/signup
How to get $35 DigitalOcean Credit
To get this offer first create a Codeanywhere account then follow these simple steps:
Go to File -> New Connection -> Digital Ocean.
Below the "Connect Your DigitalOcean Account" button there is section that states "Don't Have a DigitalOcean Account? Click below to receive coupon for $25 in Credit".
By clicking on the button "Get Coupon" below your coupon code will appear.
Once you've received the coupon code, First register DigitalOcean Account using my referral link https://m.do.co/c/e8a7842ff717 and it will give you $10 USD Credits. After you confirm and activate your account and use coupon code. It will be $35 USD Credit
Note: This coupon will be vaild only for new DigitalOcean accounts.
CodeAnyWhere IDE Features
75 Programming languages syntax
Code completion

(js, php, html, css)

Linting

(js, css)

Multiple cursors
Zen coding support
Code beautify
All device and browser support
Use built in terminal console to run any command on your DevBox or even remote servers (using SSH)
integrated clients for connecting to FTP, SFTP, FTPS, Dropbox, or Google Drive