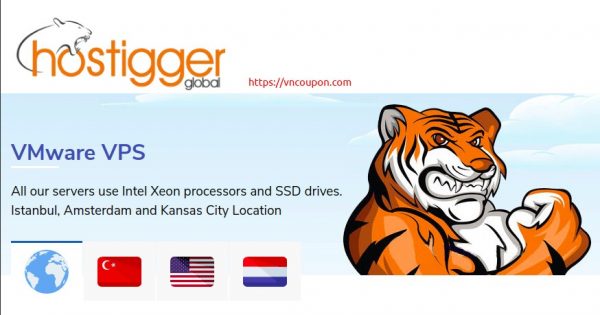 Hostigger, offers web hosting, reseller, virtualization and server solutions since its establishment. Aiming at 100 %customer satisfaction,Hostigger continues to serve its customers uninterruptedly. As of the first quarter of 2018, Hostigger has offered thousands of virtualization solutions and hundreds of server solutions.
About Hostigger
Hostigger is a worldwide high-end service provider in the hands of a High Availability service for over twenty years, turn-key service solution and development experience in the field.

What separates us from the competition, superior quality and 100% customer satisfaction of our company strategy. We are committed to providing a first class service and thrive for excellence.
VMWare VPS Limited Offers
2 Core CPU
6 GB RAM
50 GB SSD
10 TB Bandwidth
1 Gbps Network
1 Usable IP Address
Kansas City, Amsterdam, Istanbul
$59,99/yearly
Note: 
In this campaign, a customer can purchase up to 3 virtual servers.
The renewal price of this plan for the following years will be $89.99/yr
The specified network speeds may vary depending on the distance between the location of your country and the server location. When you fill in your monthly traffic, your network speed will be updated to 50 Mbps
Network Information