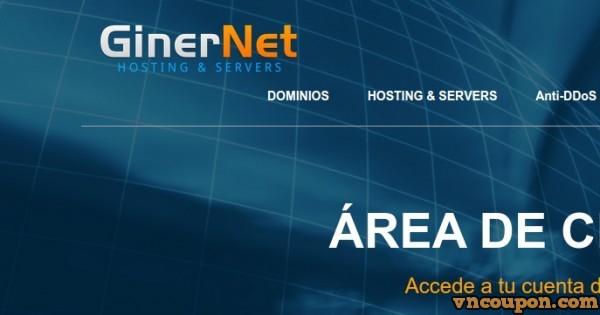 GinerNet re-stocked some limited units of their 9.99€/year OVZ server, hosted in Alicante, Spain and as always with SSDs
As always, they offer VPS on SSDs, so they guarantee the best possible performance for your VPS server, you can finally compress or make a backup and to keep working on your VPS as if nothing was happening, and of course ensuring the best possible price.
Server Features
CPU: Dual Xeon L5520 2.20 Ghz
Memory: 96 GB DDR3
Disk: 2 x Crucial MX500 : Soft RAID-1
Network: BGP AS59432
AntiDDoS: Voxility protected. More info
Looking Glass: http://mad.ginernet.com/
DataCenter: Interxion @ Madrid (Spain)
Virtualization: OpenVZ
Control panel: SolusVM
Backup: Remote automated backups
TUN/TAP/PPP modules actives for VPN services.
VPS Offer Plans
LEB-2018-5G
CPU: 1 vCore @ 2.20 GHz
Memory: 512 MB RAM + 128 MB vSwap
Disk: 5 GB SSD
IPv6: Native /64
Switchport: 1 Gbps
Transfer: 250 GB/month
Price: 9.99 €/year
LEB-2018-10G
CPU: 1 vCore @ 2.20 GHz
Memory: 1 GB RAM + 256 MB vSwap
Disk: 10 GB SSD
IPv6: Native /64
Switchport: 1 Gbps
Transfer: 500 GB/month
Price: 19.99 €/year
LEB-2018-20G
CPU: 1 vCore @ 2.20 GHz
Memory: 2 GB RAM + 512 MB vSwap
Disk: 20 GB SSD
IPv6: Native /64
Switchport: 1 Gbps
Transfer: 1000 GB/month
Price: 39.99 €/year
Network Information
DataCenter: Alicante AireNetworks (Spain)
+ Looking Glass: http://ali.ginernet.com/
Madrid (Interxion)
+ Test IPv4: 5.134.117.74
+ Looking glass: http://mad.ginernet.com/
Alicante (AireNetworks)
+ Test IPv4: 185.47.128.130
+ Looking glass: http://ali.ginernet.com/
Barcelona (Bitnap)
+ Test IPv4: 185.47.131.100
+ Looking glass: http://bcn.ginernet.com/