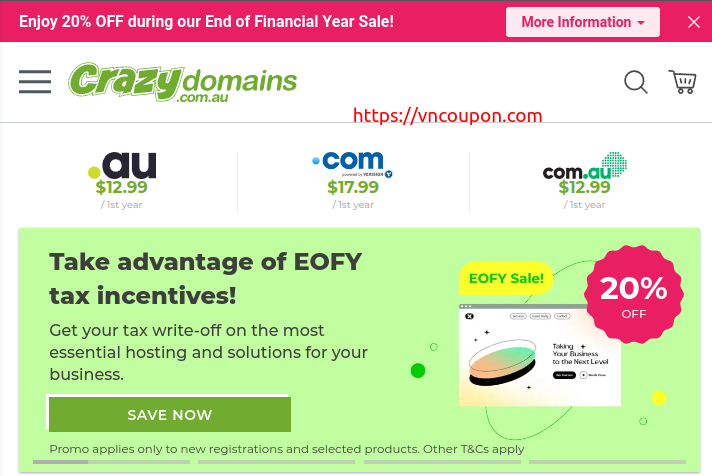 We are excited to share some fantastic news with you, CrazyDomains is hosting a limited-time sale, and we want to inform you about our End of Financial Year sale (EOFY).  CrazyDomains AU offers domain and hosting packages for your website. Take advantage of our affordable options and kickstart your online journey with ease.
CrazyDomains Coupon & Promotion Codes
15% discount on Linux Hosting and WordPress Hosting
10% off WooCommerce Online Store!
Continuing The Online Dream
Dates- 19th Sept to 30th Oct 2023
Code – DREAMBIG10
(Use code DREAMBIG10 to get an additional 10% off on storefront sale products)
Domains:
.COM.AU & .AU – $5.99 on First Year
.Com Domain – $16.99 on First Year
Hosting:
End Of Financial Year Sale
Duration – 1st June to 30th June.
Domains
(AU) Domains .COM.AU / .AU – $12.99/1st year
.COM Domains – $17.99/1st year
Hosting & Servers
Shared Hosting – 20% off on 12 months
Shared Hosting – 60% off on 120 months
Servers – 20%
Bundles:
Domain + Email
COM.AU/AU + Email Hosting- 20%
20% off on the packages (1st-16th June)
Online Startup
Business Builder
Ultimate Empire
Use Coupon Code – GROWYOURBIZ