[Black Friday 2018] CloudCone – Save 40% on Dedicated Servers with large volume SSDs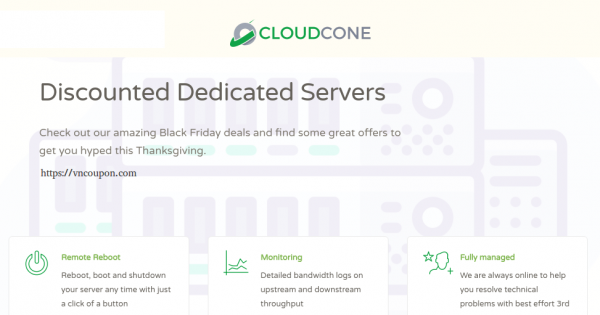 BLACK FRIDAY 2018 DEALS on dedicated servers with large volume SSDs to get you hyped up for life!
CloudCone added three amazing black friday offers together for you. Get these limited stocks by adding funds as required. 

These servers are semi-managed, however, CloudCone can help you to get your amazing sites migrated over to CloudCone and optimize them for speed, comfort and stability 
Discounted Dedicated Servers
Xeon E3-1270 V6
4 Cores, 8 threads(3.80 GHz)
Dell Server R230
32GB RAM
1TB SSD or 6TB SAS
RAID Card Included
4 Drive Bay
15TB on 1 Gbit Port
/29 IPv4 (5 usable addresses)
/64 IPv6
cPanel/WHM (+$28 /MO)
512GB SSD (+$17 MO)
1TB SSD (+$27 MO)
2TB SSD (+$53 MO)
6TB SAS (+$27 MO)
$175 $125/mo (recurring) Save 40%
Dual CPU E5620
2 x Xeon CPU E5620
8 Cores, 16 Threads (2.40GHz)
Dell Server E5620
32GB RAM
4x4TB HDD or 4x512GB SSD
RAID Card Included
6 Drive Bay
30TB on 1 Gbit Port
/29 IPv4 (5 usable addresses)
/64 IPv6
cPanel/WHM (+$28 /MO)
512GB SSD (+$17 MO)
1TB SSD (+$27 MO)
2TB SSD (+$53 MO)
6TB SAS (+$27 MO)
$273 $195/mo (recurring) Save 40%
Dual Silver 4110
2 x Xeon Silver 4110
16 Cores, 32 Threads (2.10GHz)
Dell Server R540
64GB RAM or 128GB RAM (+$75)
2x 6TB HDD or 2x 1TB SSD
RAID Card Included
12 Drive Bay
30TB on 1 Gbit Port
/29 IPv4 (5 usable addresses)
/64 IPv6
cPanel/WHM (+$28 /MO)
512GB SSD (+$17 MO)
1TB SSD (+$27 MO)
2TB SSD (+$53 MO)
6TB SAS (+$27 MO)
$530 $379/mo (recurring) Save 40%
NOTE: Add funds to match the relevant plan before deploying
Included Freebies
Advanced Server Metrics: Free
AnyCast DNS: Free
KVM Over IP: Free, On request
5 Minute Avg Ticket Response
Enterprise grade Dell server hardware
Free OS Reloads
Guarantee hardware availability and 30 minute hardware replacements
Available Addons
cPanel & WHM License: $28 per month
Additional IPv4: $0.90 per month
Content Delivery Network: $0.045 per GB (45 Pops in 6 contintents)
CloudCone Network
Network Features
200 multiple Tier 1 transit providers such as Amazon, Google Fiber, Japan Telecom, Etisalat, Hutchison, TATA Communications and China Telecom
BGP4 Best-Path routing
Customized routing policies per customer
Latency based routing optimization
Redundant connections and divergent path fiber-optic connections to carriers including Level3, Cogent, Savvis, ACE, TATA, China Unicom
Automatic fault detection and re-routing
CloudCone Hourly Billed KVM Offers: Click Here