BackupDragon – Budget Backup Services starting at $7.5/Year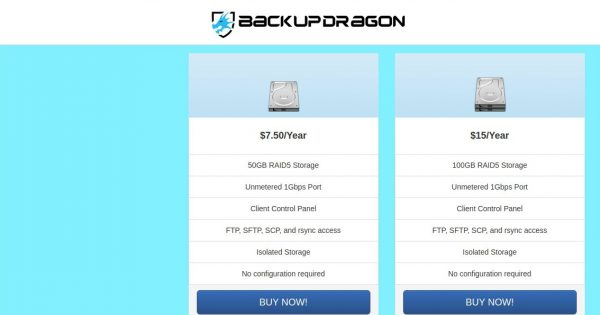 About BackupDragon
Backup Dragon is a service provided by Secure Dragon LLC. who has been providing online services since 2010. Secure Dragon LLC. was formed in October of 2010 in Largo, Florida by a small team who each contain specialized skill sets, knowledge, and experience to bring to the table. We've built this company on a strong platform by taking the enterprise level servers, placing them in highly redundant fortresses, raising the drawbridge, and we even have a dragon standing guard.
They offer backup services in all shapes and sizes from FTP/rsync accounts to KVM VPSs which are all hosted in Tampa, Florida data center (100% owned hardware and network). All services come with a 99.9% Uptime SLA and a 30 Day Money Back Guarantee.
Use promo code vps10 for a 10% lifetime discount!
Backup Plans
FTP/rsync Accounts
Budget Backup VPSs
Advanced Backup VPSs 
Premium Storage VPSs 
Looking Glass: http://drgn.biz/