VirMach – Huge Yearly Savings SSD VPS from $3/year – Free Windows for KVM VPS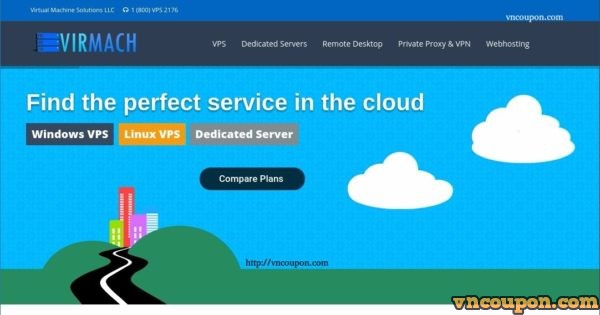 VirMach has been offering flawless VPS services since 2014.
VirMach offer services in multiple datacenters all across the US. Their newest line of plans include pure SSD (RAID 10) storage. Many of their new locations now also have DDR4 RAM and they have the newest line in E5 servers. They use SolusVM for management.
Coupon updated on 8 March, 2018. 
Virmach Special Dedicated Servers
★ E3-1240v2
OpenVZ Special Offer 
Offers fully expire March 31, 2018
★ 128MB RAM OVZ  Special★
★ 128MB RAM OVZ ★
★ 256MB RAM OVZ ★  (HOT)
★ 384MB RAM OVZ ★ 
★ 512MB RAM OVZ ★
★ 1GB RAM OVZ ★ (HOT)
★ 2GB RAM OVZ ★ 
★ 8GB RAM OVZ ★  (NEW)
KVM Special Offers
Offers fully expire March 31, 2018
★ 128MB RAM KVM ★
★ 256MB RAM KVM ★
★ 512MB RAM KVM★
★ 1GB RAM ★ Windows available 
★ 2GB RAM KVM ★ Windows available free
★ 4GB RAM KVM ★ Windows available free
★ DDoS Protection ★ 500Gbps Voxility Protection, Filtered IP, Available on any Los Angeles Service – Additional $10/yr
===================================================================
Special Shared Hosting (

New

)
Extra Discounts! Coupon Code VPSHARED30 for 30% off all below shared hosting packages, from sister site "VPShared."
Offers fully expire March 31, 2018
SHARED-1

SHARED-5

$3/YR
128MB RAM
1GB Disk (SSD RAID 10)
100GB BW @ 1Gbps
10Gbps DDoS Protection
Free SSL
Shared IPv4
∞ FTP, SQL, E-mail, Domain
Free Daily Backups

$5/YR
256MB RAM
5GB Disk (SSD RAID 10)
100GB BW @ 1Gbps
10Gbps DDoS Protection
Free SSL
1x Dedicated IPv4
∞ FTP, SQL, E-mail, Domain
Free Daily Backups
—
SHARED-10

SHARED-20

$10/YR
384MB RAM
10GB Disk (SSD RAID 10)
500GB BW @ 1Gbps
10Gbps DDoS Protection
Free SSL
1x Dedicated IPv4
∞ FTP, SQL, E-mail, Domain
Free Daily Backups

$15/YR
512MB RAM
20GB Disk (SSD RAID 10)
1TB BW @ 1Gbps
10Gbps DDoS Protection
Free SSL
1x Dedicated IPv4
∞ FTP, SQL, E-mail, Domain
Free Daily Backups
===================================================================
Other Coupon & Promo Codes
10% One Time Discount
Looking Glass
My Virmach 1GB SSD KVM Benchmark (Dallas Location)
CPU model : QEMU Virtual CPU version (cpu64-rhel6)
Number of cores : 1
CPU frequency : 2399.996 MHz
Total amount of ram : 996 MB
Total amount of swap : 1023 MB
System uptime : 8 days, 21:36,
Download speed from CacheFly: 55.5MB/s
Download speed from Coloat, Atlanta GA: 54.1MB/s
Download speed from Softlayer, Dallas, TX: 60.1MB/s
Download speed from Linode, Tokyo, JP: 13.2MB/s
Download speed from i3d.net, Rotterdam, NL: 14.4MB/s
Download speed from Leaseweb, Haarlem, NL: 41.0MB/s
Download speed from Softlayer, Singapore: 3.48MB/s
Download speed from Softlayer, Seattle, WA: 31.8MB/s
Download speed from Softlayer, San Jose, CA: 39.4MB/s
Download speed from Softlayer, Washington, DC: 37.7MB/s
I/O speed : 351 MB/s